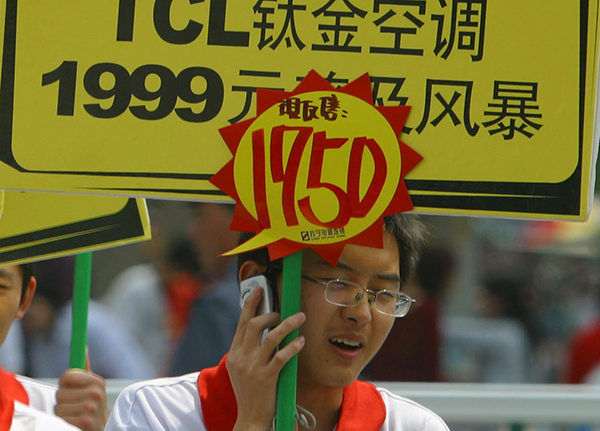 A man receives a phone call while hand-holding a billboard advertising air conditioners made by TCL Group in Nanjing. [An Xin/For China Daily]
May onwards, as summer temperatures soared in China, so has the number of searches for "air conditioner" on online marketplaces such as Tmall.com, Taobao.com, Suning.com and JD.com.
Industry observers foresee a 40 percent year-on-year surge in online sales of air conditioners in 2016. This is despite overall sales shrinking since last year.
Statistics from the Beijing-based market research firm China Market Monitor Co Ltd showed that the online sales of air conditioners in China are expected to reach 18.9 billion yuan ($2.87 billion) this year, up 36 percent.
"The online sales of air conditioners in China will see rapid growth in coming years as more and more people are feeling comfortable buying big-ticket items online. Also, there is improvement in after-sales service," said Liu Long, an analyst specializing in white goods research with China Market Monitor.
Liu projects that by 2019, about 29 percent of air conditioner sales will likely be via online channels, compared with 13.6 percent in 2015.
Compared with other major household appliances such as refrigerators and washing machines, air conditioners have the lowest adoption rate online. This signals strong growth potential, he said.
Air conditioner is the kind of product that requires good pre-sale promotions and excellent after-sales support so that customers can enjoy a better shopping experience, said Xue Youwei, manager of air-conditioner procurement and sales unit with JD.com.
"For example, a refrigerator doesn't need to be installed. A customer will know how to do it himself after the home delivery. But for air conditioners, you need to send a professional team to consumers' homes to make the machines work," he said.
This is the main reason why online sales of air conditioners took off later than other appliances.
According to China Market Monitor, about 23 percent of the refrigerators in China were sold online in 2015. The corresponding figure for washing machines was higher at 27.3 percent.
E-commerce giants such as Alibaba Group Holding Ltd and JD.com are making sure online shoppers receive the same quality of after-sales service as offline shoppers. They have also speeded up delivery times.
In 2013, Alibaba signed a deal with home appliance maker Haier Group to form a joint venture to build a logistics and service network to deliver household appliances and other large items across China.
The move gives patrons of Alibaba-backed Tmall factory-to-home logistics support for large items as well as post-delivery assembly and installation of appliances.
Xue of JD.com said the Beijing-based e-commerce major has 50 warehouses across China that support delivery of major home appliances, sometimes on the same day in certain regions, if the online order is placed before 11 am.
The Beijing-based company has been working with several air-conditioner brands to make sure delivery and installation of the devices are done promptly after the online sales.
The overall sales of air conditioners in China have been rather sluggish for the past several years mostly due to cooling of the country's property market.
China Market Monitor said overall sales of air-conditioners are expected to fall 5.4 percent to 130.1 billion yuan this year.