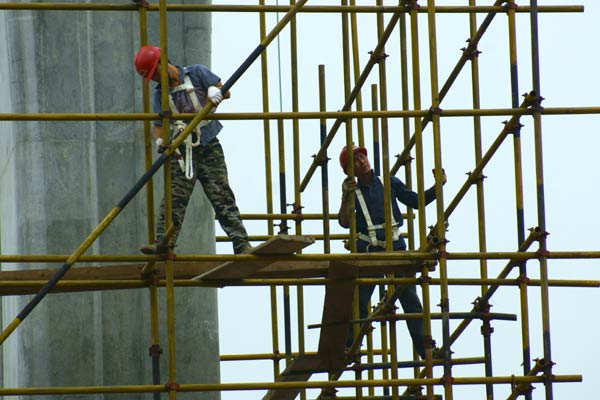 Workers at a construction site in Yichang, Hubei province. [ZHOU JIANPING / CHINA DAILY]
The economic growth rate in the second quarter stood at 6.7 percent, which is consistent with the first quarter, according to a report by the National Academy of Economic Strategy and the Chinese Academy of Social Sciences (CASS).
Experts pointed out that in the end of May, broad money's growth rate was more than 10 percent lower than that of narrow money, given that substantial capital flew into housing loan, which can harm long-term economic sustainable growth.
Guo Kesha, CASS director for the Center for Economic Policy, said that the sign of economic stability at this stage is contributed by government investment. The downward investment pressure will show in the next stage.
"The biggest risk is that the real estate bubble might burst," he said.
Wang Hongju, deputy director at the National Academy of Economic Strategy, said that the economy is expected to grow 6.7 percent; CPI is expected to increase by two percent in the second half of this year. The economic structure shows a weak balance, while both domestic and overseas market demand shows weak signs.
"Even though the overall pessimistic expectations towards downward economic pressure have turned around, enterprises still lack confidence," Wang said.
"We expect to see private and real estate investment as well as infrastructure investment slow down."