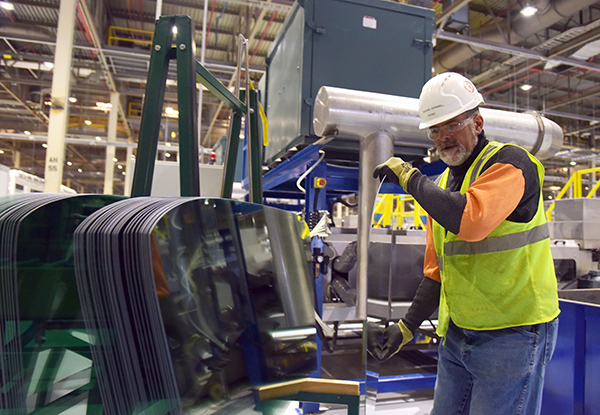 A worker carries glass at the factory of Fuyao Glass America in Ohio. [Photo/Xinhua]
Andrew Lange, director of international business development at JobsOhio, can't tell you how proud he is of Fuyao Glass America's $360 million investment in the state.
The factory is expected to create some 2,000 jobs by the end of the year and will produce glass for 4 million vehicles annually. It is already supplying products for Hyundai Motor Co and General Motors Corp.
Lange called Fuyao Chairman Cao Dewang a "wise man to make that happen".
"It was a quick entry. It shows a great business culture. Mr Cao, the governor and all the local and state government officials - we all got along very well," Lange told China Daily at the JobsOhio booth in the exhibition hall of the SelectUSA Investment Summit held in Washington from Sunday to Tuesday.
In his earlier campaign for the Republican presidential nomination, Ohio Governor John Kasich praised the Fuyao investment for creating American jobs. The Fuyao factory in the city of Moraine was one of his rally venues in March.
Ohio opened a trade office in Shanghai in 2006 and another in Beijing in 2008.
"We think the Chinese economy and Ohio economy are very similar. We make things, really good things," Lange said. JobsOhio is a private nonprofit corporation designed to create jobs and attract investment to Ohio.
Lange said Chinese investors are coming to Ohio almost on a monthly basis and "we are hopeful that we can have more nice investors like Cao." A typical foreign investment in Ohio creates about 100 jobs.
Erron Smith, at the booth for the state of Connecticut, said some Chinese delegates attending the summit have talked to him about business opportunities in Connecticut. "We want to see if there's anything we can find to fit their needs," he said, noting that aerospace, defense, pharmaceuticals and healthcare are some of the strong industries in the state.
Vincent Perez, project manager with Alabama's department of commerce, said some Chinese investments in the state are doing very well. "We have great logistics in the state, centrally located in the fastest-growing region in the United States, all kinds of opportunities are in front of you in Alabama," he said.
Timothy Kelley, president and CEO of Imperial Valley Economic Development Corp in California, said he has a full-time intern originally from China working for him. He said Chinese investment there has changed quite a bit over the years. Many investments are now in renewable energy, agriculture, hospitality and manufacturing.
While SelectUSA is a federal program that aims to draw foreign direct investment to the US, governors and mayors have also embarked on busy trade missions abroad, including to China, seeking to attract foreign direct investment into their cities and states.
US Virgin Islands Governor Kenneth Mapp talked last week about his recent trade mission to China. He announced that the Sinopec's investment in the US Virgin Islands will result in hundreds of new jobs for the territory.