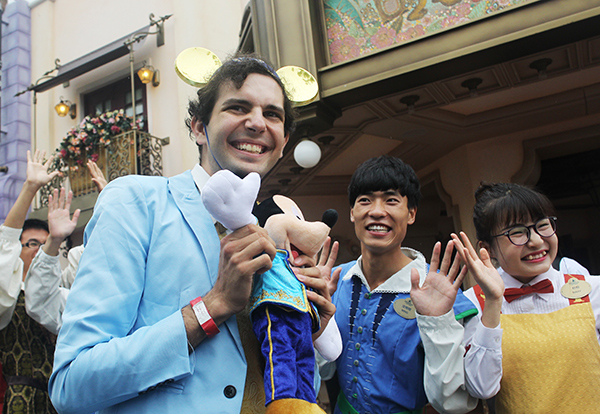 Shanghai Disney Resort officially opened on Thursday. For listed companies that are related to the theme park, the happy opening did not help drive up their shares further, instead most of them dropped at the Shanghai and Shenzhen bourses on June 16, 2016. [Gao Erqiang/China Daily]

Analysts say markets are now looking for hard performance data before making further move
Stocks related to the new Shanghai Disney Resort turned in a mixed performance after the opening of the resort on Thursday, with analysts saying the theme park's debut had yet to provide the overall supportive effect for the stock market that many had anticipated.
Shanghai-listed Tongji Science and Technology Industrial Co Ltd gained more 5.38 percent to 9.99 yuan ($1.52) per share. The company's fully owned subsidiary owns two land parcels next to the resort's region, which investors believe will gain significantly in value, said a research note from Guosen Securities Co.
However, shares of Shanghai Jielong Industry Group Corp, which prints tickets for the resort, slumped 5 percent to 12.5 yuan.
Gao Ting, an analyst at UBS AG, said more investors on balance are waiting for a proven track record of the resort's popularity and of the impact on the profitability of the companies related to the attraction.
Investors who had already gained from the stocks in previous weeks also decided to take profits.
"Smaller investors who wish to time the market have already gained from some 30 companies that benefited from the resort projects at earlier several time points, when the project was first approved to open several years ago and when its soft opening was announced," said Chen Qi, an analyst at Shanghai Tianyi Asset Management Co.
"The next time point that spurs investors' sentiment will be when proof is announced of the project's outstanding performance, which will also indicate that companies related to the project, such as suppliers and contractors, are doing well," Chen added.
Data released by financial information provider Royal Flush Information Network Co Ltd showed that 30 companies-including tourism firms, commercial property developers and operators, transportation groups and toy manufacturers-are included in the segment of Disney-related stocks.
Only one among those 30 stocks rose on Thursday while 28 dropped, with one suspended from trading.
The net capital outflow from the sector was about 400 million yuan, showing that investors were shorting stocks in the sector.
On average, the 30 stocks reported 0.1 percent growth in the past 30 days while the benchmark Shanghai Composite Index gained more than 1 percent in the same period.
Overall share prices of 15 stocks tracked by at least five analysts slumped 23 percent year-to-date, a worse performance than benchmark Shanghai Composite Index, which lost 18 percent year-to-date.
Experts said that performances of these stocks may become better when Shanghai Disney Resort accumulates proven data showing that profitability is strong and the "spillover" effects have benefited related industries, such as food and beverage, retail, tourism, hospitality and transportation.
Bloomberg contributed to this story.