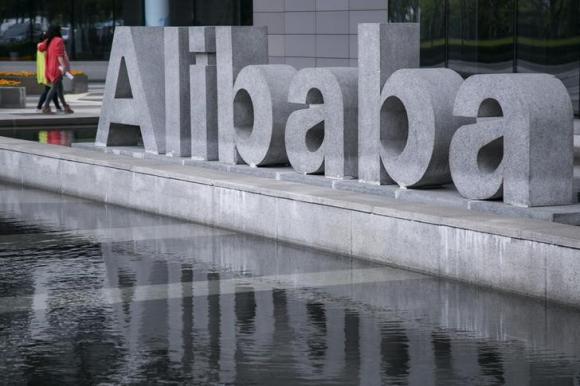 People walk at the headquarters of Alibaba in Hangzhou, Zhejiang province, April 23, 2014. [Photo/Agencies]
Singapore's state-owned investment firms Temasek Holdings Pte and GIC Pte, long-term Alibaba Group Holding Ltd investors, bought a combined $1 billion stake in the Chinese e-commerce behemoth, the second-biggest stakes being sold by SoftBank Group Corp.
The purchases add to the technology holdings of both investment firms.
Temasek and GIC were early investors in Alibaba and hold major stakes in technology firms benefiting from the economic growth of the world's second-biggest economy.
Japan's SoftBank is selling shares of China's biggest online retailer for the first time in 16 years.
"The purchase shows that GIC and Temasek are still confident about China's economy and the rise of e-commerce and technology in the country," said Margaret Yang, a market analyst at CMC Markets in Singapore.
"It's going to boost the national interest of Singapore in e-commerce in China and also in Southeast Asia."
The state-related investment firms will each pay $500 million and $74 per Alibaba share, according to a statement from Alibaba. That would result in 6.76 million new stock each.
Temasek already owns 48.6 million American depositary receipts in Alibaba, according to data compiled by Bloomberg.
GIC has been a longtime investor since before the Chinese firm's initial public offering in 2014, according to a person familiar with the transaction, who asked not to be identified for confidentiality reasons.
Alibaba is paying $74 a share to buy back $2 billion of its own stock from SoftBank, as the Japanese company embarks on an asset-divestment plan to shore up its finances.
In total, SoftBank is selling $8.9 billion of its stake in the Chinese e-commerce giant.
SoftBank approached Alibaba six months ago to express interest in divesting part of its stake in the company, which it has held for 16 years.
Timing the transaction was tricky because SoftBank Chairman and Chief Executive Officer Masayoshi Son sits on Alibaba's board, SoftBank's President Nikesh Arora said during a conference call.
When completed, the sales will reduce the size of SoftBank's stake in Alibaba to about 28 percent from just more than 32 percent. SoftBank had previously announced the Alibaba share sales without giving a price. Alibaba declined 6.5 percent to $76.69 at the close in New York on Wednesday.
The divestiture is part of the Japanese company's broader plan that will probably include further asset sales as it seeks to strengthen its finances, according to an industry source. The proceeds will not be used to purchased assets of Yahoo Inc, Arora said.
"We intend to use the capital proceeds to manage our leverage and our balance sheet, which does not include expanding and buying things in the US.
"I can unequivocally say we are not involved in the process that Yahoo is running in any way shape or form."
Yahoo is considering asset sales, including possibly disposing of its 35.5 percent stake Yahoo Japan Corp. SoftBank is the largest investor in the Japanese portal and controls several board seats.