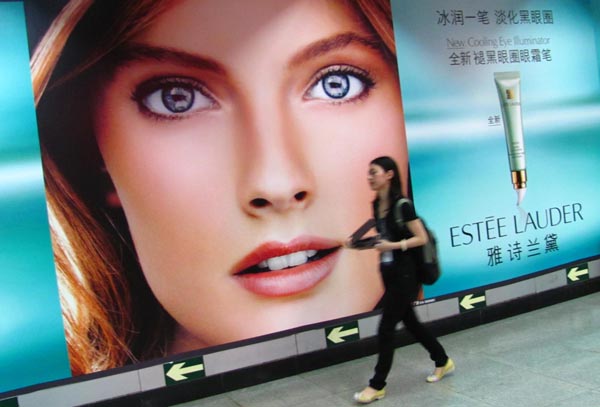 A pedestrian passes by a banner for Estee Lauder cosmetics, July 2, 2011. [Wu Changqing/For China Daily]
Cosmetics giant Estee Lauder Inc is pushing into smaller cities in China, as it continues to invest heavily in the Chinese market despite a softening economy, the company's CEO said.
Its China sales grew 8 percent in the last quarter, down from the company's historic highs of 20 percent, led primarily by gains in e-commerce and mobile commerce.
"We are not going to combat the market in China - meaning (even) if China is slowing down, we will stay there, stay focused and continue to invest in China," said Fabrizio Freda, president and CEO of Estee Lauder.
"I don't think we have the ambition to influence the total Chinese economic trend, but we have the ambition to stay focused and continue investing during the ups and during the downs. At this moment, there's a little bit of down, but it's not dramatic, it's just a bit of softening and we're still growing in China. For us it's going very well," he said.
Estee Lauder will increase its distribution in the country, investing online. It has a partnership with Alibaba Group Holding Ltd's Tmall platform, which Freda said has been a good partner for building its business because the company is able to control the image, equity and execution of the brand.
Tmall has brand partnerships with many retailers from the United States that run their official stores on the e-commerce platform, selling to customers who are wary of fake goods that proliferate on the web.
The New York-based cosmetics giant owns more than two dozen brands in makeup, skincare, fragrance and hair care, including Clinique, MAC, Bobbi Brown and Smashbox.
Freda said that Estee Lauder is also planning to invest in freestanding stores - in particular with entry-level brands like MAC - in areas where there are no department stores.