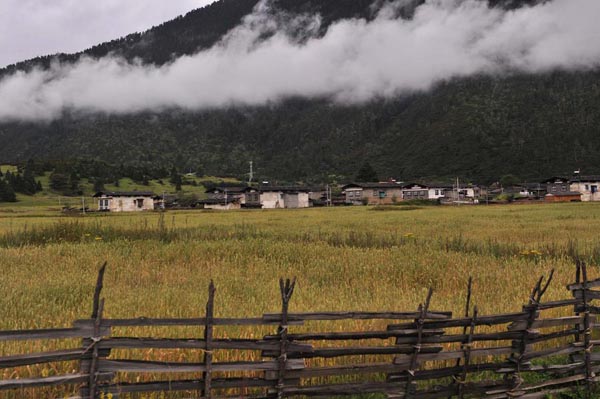 Local governments' "green development" strategy to preserve the primitive environment of Tibet is a success, as this photo of scenery of Zhaxigang village of Lunang township in Nyingchi, Southwest China's Tibet autonomous region proves, Aug 6, 2015. The fruitful efforts are seen in the snow-covered plateau that has kept its original beauty and attracts numerous visitors each year. [Photo/Xinhua]
NAIROBI - The giant steps China has taken to accelerate ecological renewal could be shared in other parts of the world to help achieve sustainable development, a UN expert has said.
Sheng Fulai, the head of economic research unit at the United Nations Environment Program (UNEP), hailed China's ecological civilization approach for redefining the global discourse on green economy and sustainable development.
During an interview with Xinhua on the sidelines of UN Environmental Assembly (UNEA) taking place in Nairobi, Sheng noted that China's model of ecological transformation is not only unique and innovative, but has also inspired the international community.
"The Chinese concept of ecological civilization has made an impact to the global discourse on sustainable development. It covers the environmental, social, economic as well as political and cultural aspects of development," Sheng said.
The ecological civilization strategy was launched by the Chinese government to promote economic growth while protecting vital ecosystems.
Sheng noted that the strategy has spurred transformation of institutions to help promote transparency and accountability in management of natural resources.
"Local officials in China are held accountable for the state of environment in their jurisdiction thanks to the political dimension of ecological civilization," said the UN expert.
He added the concept has laid emphasis on promoting behavior change to help conserve the natural treasures that range from watersheds, forests and arable land.
"China has been encouraging its citizens to reduce energy consumption as a means to cut down on carbon emissions. On a more practical note, different levels of government have integrated improved land use practices in their policies," Sheng said.
UNEP on Thursday launched a report highlighting the success of China's ecological civilization strategy. According to the report, China has set precedence in restoration of vital ecosystems such as forests and pristine land.
Sheng hailed significant strides China has achieved in greening its economy thanks to rapid implementation of the targets outlined in the ecological civilization blueprint.
"China's forest coverage has increased from 16.6 percent in 2001 to 21 percent in 2013, and is expected to reach over 23 percent of total as the country implements the blueprint. And China's production of new energy vehicles increased 45-fold between 2011 and 2015," he told Xinhua.
Sheng emphasized on the need for regular sharing of ideas and expertise between China and other countries to help hasten low-carbon development.