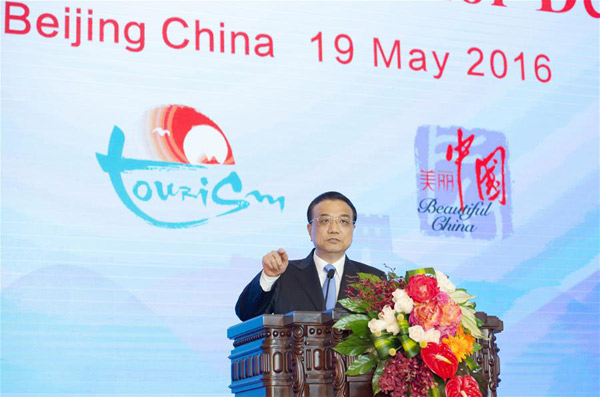 Chinese Premier Li Keqiang delivers a speech at the opening ceremony of the First World Conference on Tourism for Development in Beijing, capital of China, May 19, 2016. [Photo/Xinhua]
BEIJING -- China has vowed to help 12 million people out of poverty in the next five years through tourism development and strengthening international tourism cooperation.
Premier Li Keqiang made the remarks at the opening ceremony of the First World Conference on Tourism Development held at the Great Hall of the People in downtown Beijing on Thursday morning.
He said most of China's impoverished people live in poor and remote areas, which face difficulties in developing agriculture and industry, but have unique advantages for developing tourism. Many remote and poor areas have already reduced poverty through tourism development.
Li said tourism will help China foster a new driving force for development, achieve entrepreneurship and innovation, reduce poverty and enhance friendship with other countries.
China will treat tourism as an important area for promoting structural reform, especially supply-side structural reform and economic development. China will open the tourist market to non-governmental capital, deepen cooperation with foreign capital, strengthen hardware construction and market supervision, Li noted.
According to Li, the tourism industry directly contributed 4.9 percent of GDP in 2015 and directly employed nearly 28 million people.
He added that China will promote integration of tourism development and the "Internet Plus" strategies and achieve synergized development of primary, secondary and tertiary industries. He said China will make tourism development conducive to environmental and ecological protection, and coordinate ecological protection and economic development.
Li also called on other countries to loosen visa approval policies, streamline entrance procedures, better protect consumers' rights and interests, and strengthen south-south and south-north dialogue on tourism cooperation to give full play to tourism as a bridge for friendly exchange.
Mozambican President Filipe Jacinto Nyusi and Secretary-General of the United Nations World Tourism Organization (UNWTO) Taleb Rifai also addressed the opening ceremony, expressing their willingness to promote communication and cooperation in this regard.