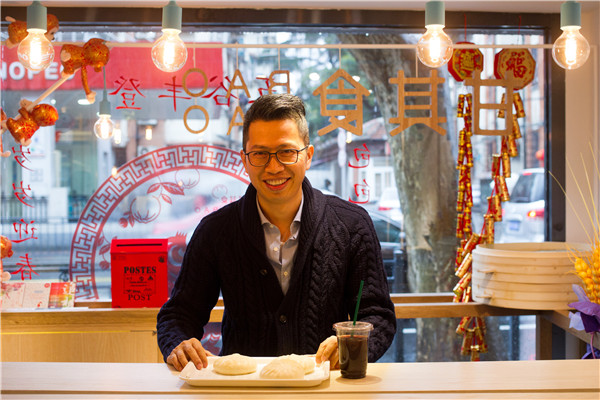 Tong Qihua, the founder of GanQiShi Bao Bao, plans to open his first restaurant in Havard Square in Boston.GAO ERQIANG/CHINA DAILY
To Tong Qihua, the founder of the GanQiShi Bao Bao chain of steamed bun shops in China, nothing is more important than excelling at one's craft and being respected for it.
To achieve this, the perfectionist ensures that his restaurants are equipped with temperature-controlled kitchens and his employees adopt a meticulous approach in making the brand's famous buns.
For instance, each piece of dough used to create a bun must be made using whole wheat. It must also weigh 60 grams, with the permitted deviation being less than 2 grams. The fillings in the buns, which can range from sweet paste to meat or vegetables, must be 40 grams.
It may sound like an easy recipe to follow if one uses a weighing scale, but all the chefs at GanQiShi craft every single bun by hand, using muscle memory and a keen sense of touch to meet these standards.
Convinced that the perfect bun can only be crafted by hand, Tong himself spent two years learning how to do so before he opened his first restaurant. He would then painstakingly train the chefs he hired before having them pass down their skills to the subsequent batch.
In fact, Tong has such a reverence for the art of bun-making that he refers to his employees as craftsmen instead of chefs. When it comes to steaming the buns, the restaurants use traditional bamboo steamers instead of high-tech kitchen appliances. Furthermore, Tong's directive to all of the brand's restaurants is that cooked buns which are not sold within two hours have to be immediately discarded.This dedication to quality is without doubt what sets GanQiShi apart from the rest of the competition. It is also the main reason behind its phenomenal success in China. In just seven years, Tong has opened nearly 200 restaurants in Hangzhou and Shanghai, selling a combined 70 million buns every year and generating about 200 million yuan ($30.7 million) worth of revenue.
Unlike vendors who sell buns in small shops or along the streets, GanQiShi offers diners a clean and comfortable environment to enjoy their meals. The brand's restaurants look more like cafes than typical steam bun stalls, and this has proven critical in drawing the crowds.
In downtown Hangzhou, GanQiShi restaurants are located a 15-minute walk from one another. Young white collar workers and students can be found in these eateries throughout the day.
Born and raised in Wenling, a small town in Zhejiang province, Tong remembers steamed buns, or baozi, as a very popular food among people in the countryside. To him, a delicious steamed bun was a treat reserved for special occasions. Every bite was precious.
When he grew up, Tong was an enterprising man who had experimented with running several businesses. Some of his previous ventures include a clothing shop, a beauty salon and an Internet bar. But it was ultimately his undying love for steam buns that convinced him to open a restaurant selling just that in 2009.
Having tasted success in his own country, Tong has now set his sights beyond China's borders. Later this month, he will open his first restaurant in Havard Square in Boston. His second overseas branch on Rhode Island will commence operations in August. Tong said that he plans to open between 20 and 30 branches in the East Coast's New England region in the US by 2020.
One of the main reasons behind his overseas expansion is his desire to share with the world the beauty of traditional Chinese food culture.
"I was surprised to find out during my first business trip to the US many years ago that the locals viewed the steamed bun as a delicacy. With this overseas expansion, I'd like to view myself as a messenger of traditional Chinese food culture," said Tong.
While the buns in the US will be prepared exactly the same way as before, the menu offerings and the restaurant settings will slightly differ. In order to cater to the local palate, Tong said that his American outposts will also sell buns stuffed with fillings such as chicken and lobster. Patrons can even choose from a variety of beers to go with their buns.
Meanwhile, the people tasked with making the buns at GanQiShi's US restaurants will be predominantly American. Tong said that these employees will have to undergo a three-month training program in China before they begin work in the kitchens.
But Tong is not simply focused on foreign markets. Apart from his US expansion, he is also in search of business partners who can bring his brand to more cities across China.
"I think the culture of eating baozi should be promoted to a wider range of modern Chinese cities where locals should slow down their pace of life and spend some time savoring delicious food made from the heart," said Tong.