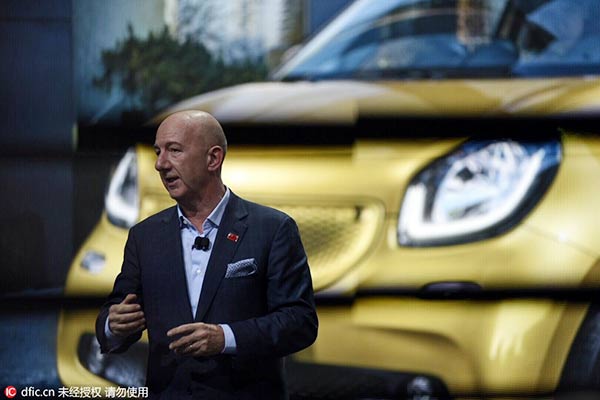 Nicholas Speeks, President and CEO of Beijing Mercedes-Benz Sales Service Co Ltd, speaks during the 14th Beijing International Automotive Exhibition, also known as Auto China 2016, in Beijing, China, April 25 2016.[Photo/IC]
The drive by foreign automakers to enter the Chinese market speaks for itself — increasingly in Mandarin.
It sometimes even sings — such as when Nicholas Speeks, a Briton who heads sales and marketing for Mercedes-Benz in China, drew cheers on Monday by serenading a crowd at Auto China in Beijing with the ballad Great China.
"We have the same home, and its name is China," Speeks crooned in Mandarin to applause at the company's booth at the show, which runs until May 4.
That was a day after the brand's new E-class car was unveiled to the tune of the Chinese classic song In the Field of Hope.
Participants joked that the country truly is "a field of hope" for Mercedes-Benz.