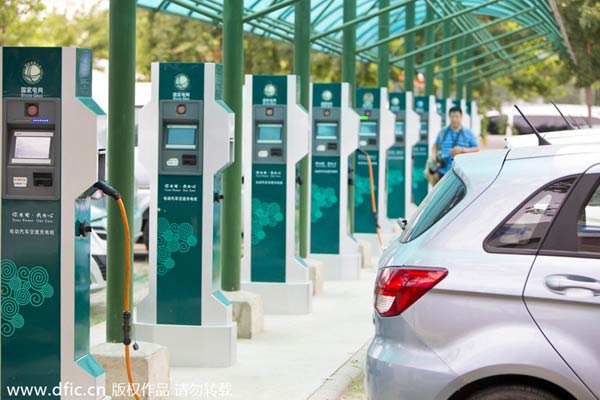 View of the charging facilities at the production site in Daxing district, Beijing, July 23, 2014. [Photo/IC]
In a move to support the development of new energy vehicles, the central government has devised a series of preferential policy measures in recent years, including financial subsidies and tax cuts for the fledging sector.
Local governments, too, have taken measures to support the new energy vehicle sector. Since the beginning of April, Xi'an, capital of Northwest China's Shaanxi province, Hangzhou, capital of East China's Zhejiang province, and Shanghai have adopted policies encouraging operators of battery-charging facilities to offer electric vehicles preferential prices.
The catalog for the third batch of new energy vehicles, published recently by the Ministry of Industry and Information Technology, has added 309 new vehicle types that qualify for promotion. This increases the types of such vehicles to more than 1,000 since the first catalog was first published in January 2016.
Thanks to the continuous support of the central and local governments, the share prices of companies manufacturing new energy vehicles have been rising. Indeed, the sector is booming. But it owes its boom to the huge subsidies from the central and local governments. For example, subsidies from tens of thousands of yuan to hundreds of thousands of yuan are offered to new energy vehicles, depending on their types. A 6- to 8-seat vehicle can get a subsidy of up to 500,000 yuan ($77,080) from the central and local governments. Last year alone, more than 30 billion yuan were given as subsidies to such vehicles.
China has in place a set of comprehensive policies and measures to support the sector's development, including subsidies, tax cuts, government procurement and funds for research and development, and construction of supporting facilities. According to Zeng Xiao'an, an official with the Ministry of Finance, the country's financial policy should play a role in helping expedite the development of the new energy vehicle sector, which manufacturers have hailed.
An expert associated with a domestic new energy vehicle company says that in the initial stage of development, it is difficult for new energy vehicles to find a niche in the market exclusively on their inherent strength, because of factors such as high investment, high risks, and the lack of an ideal environment for their consumption and a strong competition among the brands. Preferential taxation and subsidy policies thus become necessary to boost their development.
But preferential policies have increased the dependence of new energy vehicle enterprises on the government and also encouraged new manufacturers to enter the market even though they don't have proper supporting facilities or innovation capability to gain a solid footing in the sector. Grabbing a piece of the government subsidy pie remains enterprises' biggest motivation to enter the new energy vehicle market, which, in turn, has given rise to some malpractices. In fact, some electric vehicle plants and leasing companies have reportedly swindled the government out of huge amounts of subsidies by, for example, falsely claiming of having massive outputs.
"China started its new energy vehicle sector some years ago, but it is yet to achieve a major breakthrough in developing high-end products and core technologies," Finance Minister Lou Jiwei has said. "An important reason for this is the excessive dependence of enterprises on government subsidies and their lack of tenacity and spirit of innovation".
If getting a slice of the subsidy cake becomes the only motivation for enterprises to develop new energy vehicles, the sector will inevitably suffer losses. To tackle the problem, the market has to play the decisive role in the distribution of resources, and the government's "invisible hand" should be shortened to promote the new energy vehicle sector's healthy growth.
The author is a researcher on enterprises development studies.