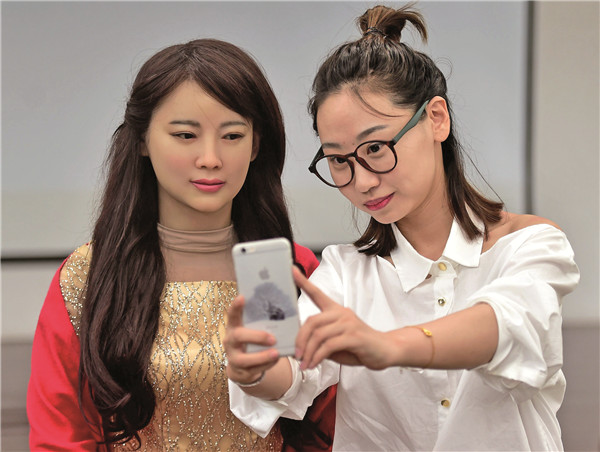 A journalist takes a selfie with a robot at the University of Science and Technology of China in Hefei, Anhui province. Photo/Xinhua 
China plans to triple its annual production of robots used in the manufacturing sector to 100,000 in five years, an industry regulator said on Tuesday.
The target is being pursued as the country upgrades its labor-intensive manufacturing with technological innovation.
China is also aiming to sell more than 30 billion yuan ($4.6 billion) worth of service robots by 2020 amid surging demand in the healthcare, education and entertainment sectors, according to the Ministry of Industry and Information Technology.
The initiative details the growth of the robotics industry for the national 13th Five-Year Plan (2016-20) with a view to increasing the quality of equipment, said Xin Guobin, the vice-minister of industry and information technology. China produced fewer than 33,000 manufacturing robots in the past year, according to the ministry.
"The strategy will help the Chinese robotics industry to achieve healthy growth amid challenges from overseas providers," Xin said.