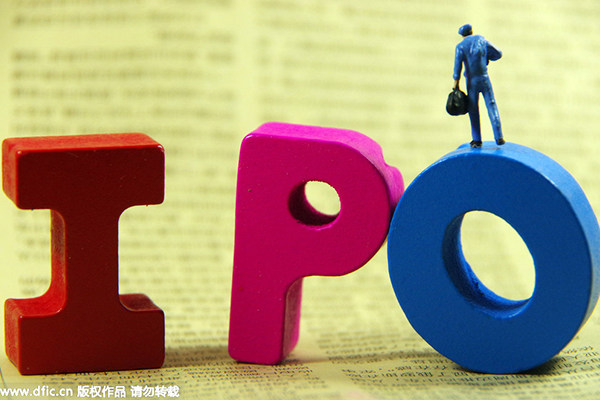 China's securities commission gave greenlight to seven initial public offerings (IPOs) on Monday, which are expected to raise no more than 2.8 billion yuan ($433.1 million).
Among the seven companies, three will be listed on the Shanghai Stock Exchange, one on the Shenzhen Small and Medium Enterprise Board, and three on the Nasdaq-styled ChiNext.
The companies include Zhejiang Jiaao Enprotech Co, store chain Xinjiang Wuika Times Co, driving training simulator provider Nanjing Doron Technology Co and Yorhe Fluid Intelligent Control Co.
The batch of IPOs comes as the fifth this year, as the China Securities Regulatory Commission approved 31 listings in the first quarter.
The 24 debut by the end of last month raised a combined 11.7 billion yuan, said professional service firm Deloitte in its latest note. The amount raised 76 percent year-on-year.
Regulators have been carefully managing the offering size and pace, according to the report, as to avoid any crash to existing shares.
China only resumed IPOs last November after a four-month hiatus when the Shanghai benchmark index plunged as much as 30 percent from June 12 peak. The suspension was meant to ease market concerns as new offerings could drain liquidity.
With some 700 companies still lining up for listing approval, Deloitte expects to see a total of 180 to 220 mainland IPOs this year.
The Shanghai Composite Index opened at 3,031.30 on Tuesday, and was down 0.4 percent at 11:00 am while the Shenzhen Component Index traded down 0.8 percent to 1,0519.97.