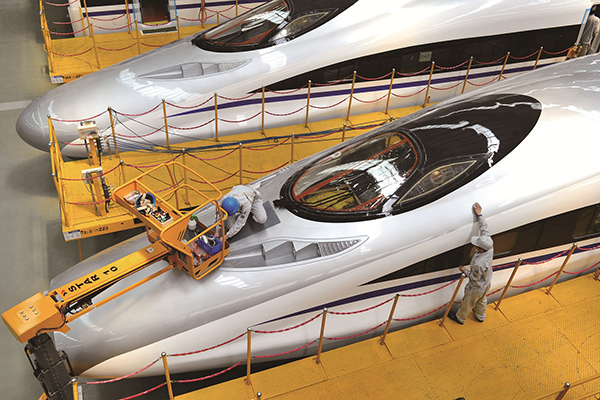 A CRH train production site of CRRC's Qingdao Sifang Co Ltd in Qingdao, Shandong province. [Photo/Xinhua]
KUALA LUMPUR - China Railway Group Limited (CREC) announced a $2 billion investment in Malaysia on Monday with an eye on further expansion into the Southeast Asian market.
CREC, one of China's largest state-owned companies, would make the investment to build an integrated office complex as its regional headquarter in Bandar Malaysia, a future transport, business and commercial hub for Kuala Lumpur.
The announcement came three months after CREC's successful bid with its Malaysian joint-venture partner in December to acquire 60 percent of the equity in the Bandar Malaysia project.
Zhang Zongyan, CREC's president, said the project marks the company had assumed of a new role in Malaysia.
"In the past, we were contractor, so this project is of much significance for us in the sense that we partner with local companies to invest and to build this transport and commercial hub," he told Xinhua.
Statically located about 7 km from the Kuala Lumpur city center, Bandar Malaysia would also serve as the terminal for the proposed high-speed railway linking the Malaysian capital and Singapore.
Malaysian Prime Minister Najib Razak hailed CREC's investment as another testimony of the "long-standing friendly relations we have between Malaysia and China."
According to CREC, it would consolidate all its current regional businesses and operations once its new headquarters is up and running.
The company would use the new regional center to expand into other Southeast Asian countries, and to facilitate the implementation of infrastructure projects like roads and railways in the region as promoted by the Belt and Road initiatives.
CREC is one of the world's largest engineering and construction firms, and also has businesses, among others, in industrial manufacturing, real estate development and resources and mineral products. It currently ranks 71st in the Fortune 500, with a turnover exceeding 100 billion U.S. dollars per annum.
Najib said his country is targeting more Foreign Direct Investment from China.
Non-financial investment by Chinese companies in Malaysia recorded an impressing 237 percent increase to 410 million U.S. dollars in 2015, according to China's statistics. Chinese officials said Chinese companies were investing in more diversified areas with more focus on quality.
Apart from CREC's investment in Bandar Malaysia, China General Nuclear Power Corporation (CGN), one of Chinese leading clean energy companies, signed an equity purchase agreement with Malaysian energy company Edra Global Energy last year to buy 13 clean energy projects scattered in Malaysia, Egypt, Bengal, Pakistan and United Arab Emirates (UAE).