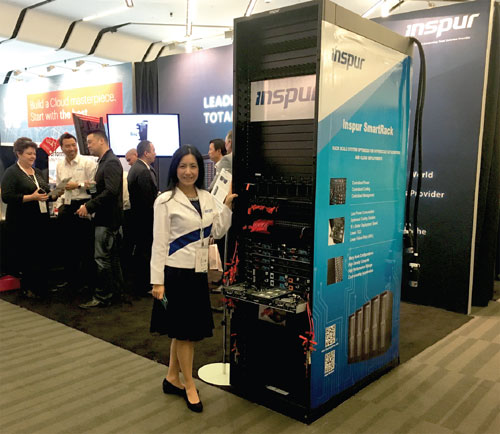 Dolly Wu, general manager for Inspur USA, demonstrates the Inspur Smartrack at the Open Compute Project Summit on Thursday at the San Jose Convention Center in San Jose, California. Lia Zhu / China Daily

Inspur, a major Chinese IT solutions provider, is gearing its US business to the clouds.
The company made its debut in the US computing infrastructure industry at this year's Open Compute Project Summit (2016 OCP) from March 9-10 in San Jose, California.
On display was Inspur's Smartrack, a server cabinet solution for the cloud computing data center, which is designed as a high-density, modular, low-power and easily maintainable product and for critical applications.
Smartrack is behind many big tech names in China – it takes up 85 percent of Baidu's whole cabinet server, 50 percent of Alibaba's whole cabinet server and 60 percent of Qihoo's general purpose server.
"We are confident that we can provide the technology, the expertise and the quality that the US tech leaders need to continue to thrive as the world around us changes in unprecedented ways," said Dolly Wu, general manager for Inspur USA. "We are committed to serving the US market and exceeding expectations in the same way we've done for our major partners in China."
The Shandong, China-based company officially launched its new Datacenter/Cloud Division in Silicon Valley in October last year. The R&D and manufacturing facility, based in Fremont, is expected to start manufacturing Smartrack and other products late this year.
So far, Inspur has forged partnerships and entered into agreements with several major tech companies, including IBM, SanDisk, Cisco Systems and Diablo Technologies.
The $100 million joint venture that Inspur and Cisco entered into late last year, with Inspur holding a 51percent stake, will start co-developing datacenter, networking and Internet of Things (IoT) technologies in the first half of the year.
Inspur also plans to spend at least $154 million on overseas cloud computing acquisitions this year in the hopes of building an overseas presence.
"Everything is moving towards the cloud. Everything is getting digitized. … We think the cloud consolidation is going to transform the industry and consolidate the equipment providers to a few very large CSPs (Cloud Solution Providers)," Wu said.
liazhu@chinadailyusa.com