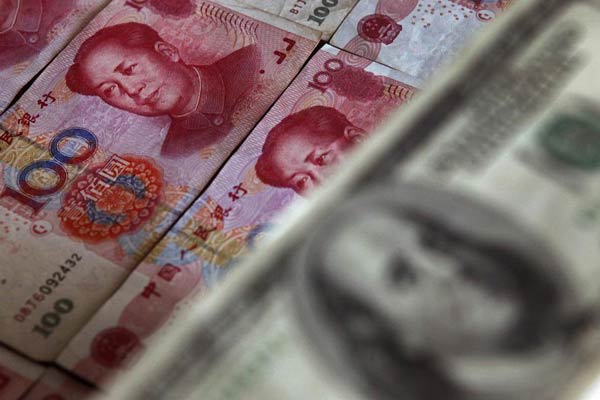 A photo illustration shows a $100 banknote placed above Chinese 100 yuan banknotes in Beijing in this May 10, 2013 file photo. [Photo/Agencies]
In spite of seasonal factors such as the timing of the Chinese New Year, which may have dragged some lending forward, the stronger-than-expected growth in loans in China has considerably boosted confidence in the growth prospects for the world's second-largest economy.
The latest statistics from China's central bank show that the country's new yuan-denominated lending jumped to a new record of 2.51 trillion yuan ($385 billion) in January, up 71 percent from a year earlier.
China's record credit expansion in January alone cannot guarantee that the country's economic growth will pick up in the coming months. But with the help of more government spending and accelerated fixed-asset investment, the massive growth of bank loans will more than likely support a solid rebound of the Chinese economy.
There has already been talk that Chinese policymakers will increase budget deficits to help rein in the economic slowdown.
Louder than those words is the action that China's top economic planner has already taken so far this year. The National Development and Reform Commission approved 21 fixed-asset investment projects with total investment reaching 54.1 billion yuan in January.
With explosive credit growth and accelerated approval for large investment projects, the prospects for the Chinese economy heading out of last week's Lunar New Year holiday, seem brighter than they did heading in.
Of course, in the meantime, Chinese banks must pay close attention to the quality of new loans for it matters a lot for not only their balance sheets but also the sustainable growth of the Chinese economy.