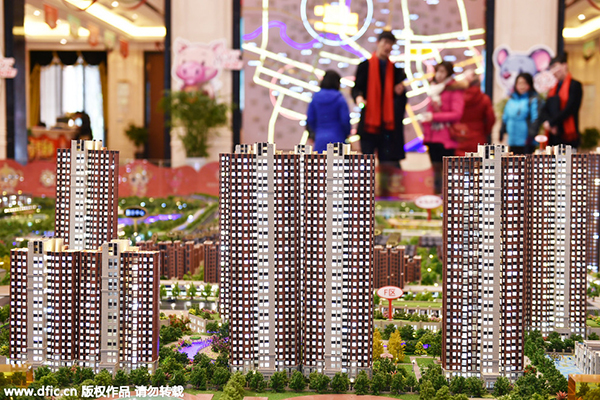 Homebuyers look at models of residential apartment buildings at a sales office in Luoyang, Henan province, Jan 24, 2016. [Photo/IC]
China's new home prices increased more slowly in January, as sales faltered with a smaller housing supply before the traditional Lunar New Year.
The average price of a new home in China's 100 major cities rose 0.42 percent month-on-month in January to 11,026 yuan ($1,675) per square meter, the China Index Academy (CIA) said in a report, a drop from December's 0.74 percent rise.
It was the ninth straight month that the price grew over the previous month.
New homes in the ten biggest cities posted a 0.54 percent month-on-month growth, but the slowdown is deeper at 0.6 percentage points slower than in Dec.
The academy attributed the slowdown to developers' decreasing willingness to promote new housing projects before Lunar New Year, as many city dwellers returned to their hometowns for family reunions. The lower number of sales was a damper on price rises.
Still, southern Shenzhen delivered an impressive 5.24 percent m-o-m price rise, the fastest among all cities.
CIA expected demand to rebound after the Lunar New Year holiday, with steady price growth, and more rapid expansion in some key cities.