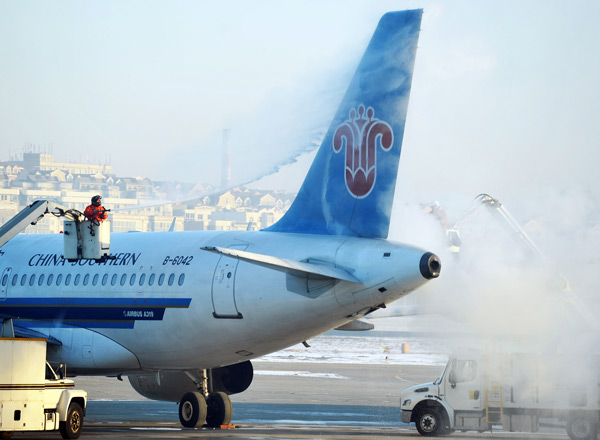 A worker removes ice and snow from a China Southern Airlines Co Ltd aircraft at an airport in Dalian, Liaoning province. [Photo/China Daily]
China Southern Airlines Co Ltd is predicting its net profit rose between 110 and 130 percent last year.
Asia's largest carrier by fleet number had a net profit of 1.773 billion yuan ($269.496 million) in 2014, meaning a possible figure of more than 3.72 billion yuan this time round.
The company said in a statement on Wednesday it also expects revenue to have increased as demand for air travel rose considerably, both at home and to overseas destinations in its growing international network.
It said strict cost-control measures, lower fuel prices, and stringent efforts to cut its dollar-denominated debt to reduce the adverse effects of a weakened renminbi, will all help its bottom line.
Other Chinese airlines, too, have been working to reduce the effects of the weakening Chinese currency.
Air China Co Ltd, the country's flag carrier, announced on Monday that by optimizing its debt structure and adding direct sales, net profit in 2015 is expected to rise by at least 6.051 billion yuan, which would mean a 60-80 percent increase on 2014, when it delivered 3.782 billion yuan in sales.
Analysts expect China's domestic airlines to have enjoyed a strong business performance in 2015, as a result of cheaper fuel and rising demand.
"Because of those lower fuel costs, the entire aviation industry expects strong profits in 2015," said Han Yichao, an aviation expert at Changjiang Securities, adding some carriers are now predicted to take advantage of those lower costs, by investing in more capacity.
Yang Zhiqing, from Guangfa Securities, said some domestic airlines have already been putting on extra flights to international destinations, as flight traffic is almost saturated in China, especially to the big cities.
While Yang still expects their domestic income to rise this year, the most money will be made on the international routes, although for many carriers it remains difficult to generate profit immediately, since new services need time to develop.
"The number of Chinese airlines operating internationally continues to grow, but the expense involved in adding new overseas routes means many will have to wait to reap the rewards."