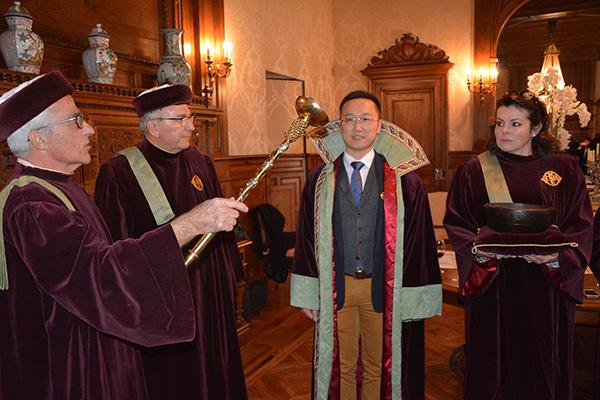 Li Xuan, second right, is dubbed a 'knight' of the Left Bank Bordeaux. [Photo by Liu Jia for China Daily]
The founder of China's first international wine museum has received a "knighthood" for forging closer Franco-Chinese ties in the sector.
At the ceremony on Jan 19, Li Xuan, the 33-year-old curator of the Shanghai International Wine and Spirits Museum, became the youngest recipient of a "knight medal" granted by the Commanderie du Bontemps de Médoc, des Graves, de Sauternes et de Barsac, also known as the Left Bank Bordeaux.
With a history dating back to the Middle Ages, Left Bank Bordeaux is one of the oldest and largest wine brotherhoods in France.
Philippe Blanc, director of Saint-Julien-based Chateau Beychevelle, the winery where the ceremony took place, said Li had been recognized by the most celebrated estates and wineries in Bordeaux for a distinguished contribution made to France.
Awarded with the top honor, Li pledged that his museum team would keep on promoting France's centuries-old wine tradition and culture to the growing number of wine lovers in China.
Li's museum is built in a cave at Sheshan Mountain in Shanghai. With a total area of more than 20,000 square meters, it is the largest wine-themed museum in Asia.
The museum, which began operations in December 2015, offers Chinese wine lovers an unprecedented opportunity to experience wine culture of the world at home.
Through the platform, foreign wine producers show their products, history and culture to Chinese consumers without paying any exhibition administration fee.
Li said those interested in entering the Chinese market can transport limited stock to the bonded warehouse at the museum free of charge.
"The total storage capacity of the museum warehouse is 24 million bottles. We have collections from all over the world. Wine from Bordeaux - the largest quality wine origin-ranks the top in terms of number of bottles on display," he said.
"There are 22 bottles of Bordeaux wine opened in the world every second," said Christophe Chateau, communication director at the Inter-professional Council of Bordeaux Wine, the organization representing more than 7,000 wine producers from the region.
"The French market is shrinking, but export is climbing, especially to Chinese market. In 2013, over 80 million bottles are exported to China, Macau and Hong Kong. China is the largest export market for Bordeaux wine," he added.