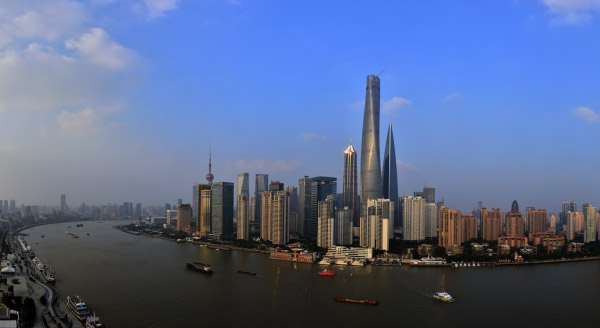 Shanghai Tower received LEED-CS Platinum certification in 2015. [Photo provided to chinadaily.com.cn]
Shanghai has been listed as the city with the largest environmentally-friendly building space certified by the Leadership in Energy and Environmental Design (LEED) in 2015, a universally recognized green building rating system, as announced by the US Green Building Council (USGBC) on Wednesday.
Shanghai topped the list with over 2.4 million gross square meters (GSM) of LEED certified space followed by Guangdong (over 1 million GSM) and Beijing with over 1 million GSM. The findings are based only on projects certified in 2015.
The top 10 provinces and municipalities on the Chinese mainland that have participated in LEED certification are geographically, demographically and economically diverse. Five of them are from the developed coastal region (Shanghai, Guangdong, Tianjin, Zhejiang, Jiangsu). Sichuan and Chongqing are from the western inland region, Liaoning from the northeast, Henan from central China, as well as Beijing, China's political and cultural center.
Through its LEED program, USGBC is committed to promoting a sustainable future through cost-efficient and energy-saving green buildings. Every day, 1.85 million square feet (more than 170,000 square meters) of space is certified by LEED. Across Mainland China, there are 732 projects participating in LEED covering 26.7 million GSM of certified space.
"Every story about a LEED building is a story about leaders and leaders in China understand that LEED is a powerful market tool that works," said Mahesh Ramanujam, Chief Operating Officer of USGBC and President of Green Business Certification Inc.
"I want to thank the Chinese business leaders and policymakers who are leading the way. Together, we are moving forward to create a healthier, more sustainable future for China through wide scale adoption of green building rating systems."
The top 10 provinces and municipalities on the Chinese mainland that have participated in LEED certification:
| | | |
| --- | --- | --- |
| Absolute Rank  | China mainland provinces and municipalities | LEED GSM Certified In 2015 |
| 1 | Shanghai | 2,462,439  |
| 2 | Guangdong | 1,066,661 |
| 3 | Beijing | 1,044,298 |
| 4 | Tianjin | 669,276 |
| 5 | Sichuan | 585,931  |
| 6 | Zhejiang | 510,126 |
| 7 | Jiangsu | 499,279 |
| 8 | Liaoning | 394,103 |
| 9 | Chongqing | 289,954 |
| 10 | Henan | 271,841 |