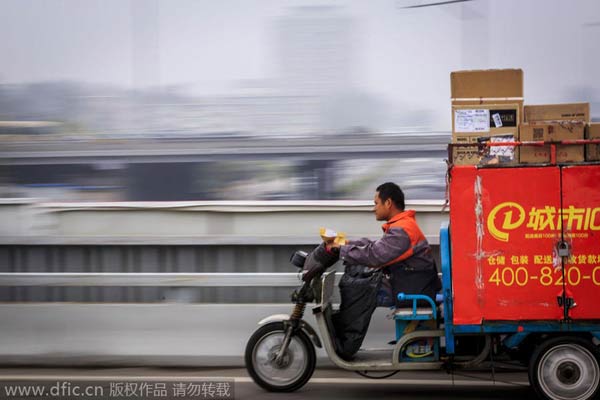 A courier en route to deliver packages in Beiing, Oct 11, 2014. [Photo/IC]
BEIJING - If a car's fuel gauge is showing empty but the car still drives, the problem could just be a faulty instrument panel. Such is the current case for China's economy during its new normal growth period.
The Chinese economy expanded 6.9 percent last year, recording a 25-year low. The lackluster GDP figure is interpreted as a signal of an impending hard landing according to reports in foreign media, but Chinese consumers have yet to display signs of economic pinch.
"If you paid a visit to steel mills and coal mines, you will think that the Chinese economy is all doom and gloom. But you will feel quite the opposite if you visit the bustling innovation center in China's Silicon Valley, Zhongguancun, or cinemas where the seats are full," said Pan Jiancheng, deputy head with China Economic Monitoring & Analysis Center of the National Bureau of Statistics.
China is currently spreading growth among different sectors as the economy shifts from investment to consumption, Pan said.
By traditional standards, the Chinese economy is slowing, with drops in GDP growth, industrial product prices, profitability of factories and fiscal revenue. Current economic indicators for power consumption, railway cargo, bank loans and PMI reflect the development of investment-intensive sectors such as manufacturing.
But as China restructures its economy, the world needs to give more attention to consumption and the service sector, according to a report released by US investment firm Jefferies Group.
"The Chinese economic structure is changing. You can't just say the economy is in bad shape based on some lackluster performance of traditional indicators," said Yu Lei, managing director with the China branch of Jeff Group.
Against the downward economic pressure, there are some obvious silver linings.
In the first 11 months of 2015, a total of 18.2 billion parcels were delivered, surging 48 percent year on year. Courier service revenue grew 34 percent to 245.6 billion yuan ($37.5 billion), indicating a robust e-commerce sector and rapidly expanding domestic consumption.
Entertainment consumption has also grown rapidly, with China's box office sales topping 44 billion yuan in 2015, jumping 48 percent from the previous year.
In the worst-hit secondary sector, bullet trains, new-energy vehicles and smart electronic devices are showing promise as efforts to phase out polluting, energy-intensive and non-competitive industries drag down growth.