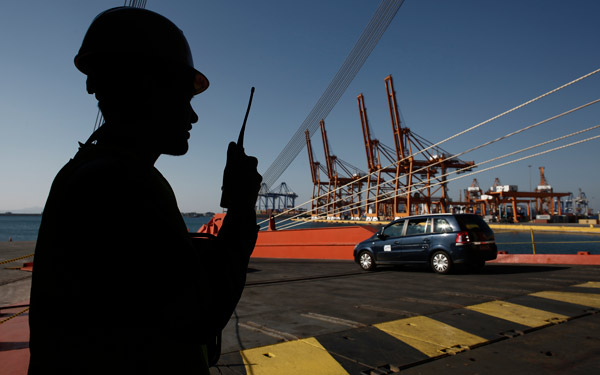 A crew member speaks on a radio as new vehicles are unloaded from the Topeka vehicle carrier at the car terminal in the Port of Piraeus, operated by Piraeus Port Authority SA, in Piraeus, Greece. [Photo/Agencies]
Greece agrees to sell 67% of Piraeus port to COSCO Shipping for $402 million
Though Chinese companies have been stepping up the pace of mergers and acquisitions in global markets, they need to have a clear strategy, effective implementation procedure and the necessary capabilities to handle big-ticket deals, experts said on Thursday.
The comments came close on the heels of Chinese conglomerate China COSCO Shipping Co Ltd's decision to pay 368.5 million euros ($402 million) for a 67 percent stake in the Greek port of Piraeus. The deal, long in the works, got bogged down due to the political problems in Greece.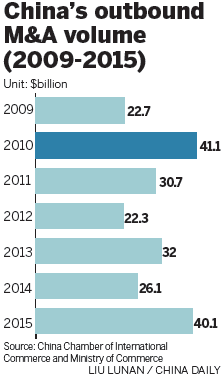 COSCO Shipping will pay 22 euros a share for the Piraeus stake, according to the Athens-based Hellenic Republic Asset Development Fund, a privatization agency owned by the Greek government. The Chinese firm was asked to sweeten its offer last week after it emerged as the sole candidate for the stake.
COSCO Shipping already runs container operations at two piers in the Piraeus port. International firms like APM Terminals, owned by Danish shipping conglomerate AP Moller-Maersk A/S and Philippines-based port operator International Container Terminal Services Inc were also in the fray, but dropped out of the race due to the inordinate delays.
COSCO Shipping officials in Beijing did not comment on the deal and said that it was conducted by its unit China COSCO Holdings Co.
Wang Zhile, a senior researcher at the Beijing-based Chinese Academy of International Trade and Economic Cooperation, said the biggest issue with deals like the Piraeus one is the cumbersome nature of the business.
"Operating ports in foreign countries is not an easy task and Chinese shipping and port operators must deploy more resources and manpower to understand overseas commercial, political and legal environment, as well as profitability models," he said.
Global consultancy Boston Consulting Group said the biggest challenge for Chinese firms pursuing M&A deals is poor communication and coordination. Since decision-making power in many Chinese companies is concentrated at the headquarters, the due diligence team in the field faces challenges in communication and coordination of internal and external resources.
Chen Yingming, executive vice-president of the Shanghai-based China Ports and Harbors Association, said despite the difficulties and the uncertain global economic environment, COSCO Shipping's investment in Piraeus port will bolster China's Belt and Road Initiative.
The initiative, proposed by President Xi Jinping in 2013, includes the Silk Road Economic Belt and the 21st Century Maritime Silk Road, and covers about 4.4 billion people in more than 60 countries and regions.
"The deal will help attain the goal of building Piraeus port into a bigger port of call for the China-Europe shipping route," said Chen.
With a capacity of handling more than 3.7 million 20-foot-equivalent container units in 2014, Piraeus port has become an important partner for multinational giants such as US electronics company Hewlett-Packard Co and Chinese networking major Huawei Technologies Co and ZTE Corp in Europe, Northern Africa and the Middle East.
COSCO Shipping will invest another 300 million euros once the deal is sealed within five years to improve and upgrade infrastructure facilities at the Piraeus port.
Outbound M&A deals rise in 2015
Outbound merger and acquisition activities were the main investment option for Chinese companies in overseas markets last year, according to the Ministry of Commerce.
Companies from China conducted 593 M&A deals worth $40.1 billion in 2015. This included the purchase of a nearly 60 percent stake in Italian tire producer Pirelli & C SpA by China National Tire and Rubber Co Ltd, the biggest outbound acquisition by a Chinese firm in 2015.
Shen Danyang, spokesman for the ministry, said the surge in outbound M&A deals can be attributed to a host of developments that have taken place both outside and inside China.
Within the country, a relaxed policy environment, abundant cash reserves and a rising private sector have spurred Chinese companies to learn from their foreign rivals and seek bargains overseas via M&A.
With China's business influence rising, a growing number of foreign companies in developed countries are now keen to partner or work with Chinese companies.
Shen said the focus of China's outbound M&A activities has shifted from State-owned enterprises seeking natural resources to deals with an eye on growing market share and core capabilities.
There has been fewer deals in energy and resources, and more in industrial and consumer goods, finance, technology and telecommunications last year, data from the ministry show.
"Outbound M&A deals are a practical way for Chinese companies to pursue new profit drivers, gain new market access, cutting-edge technologies and even prestigious global companies," said Zhao Zhongxiu, a professor who researches overseas investment at the University of International Business and Economics in Beijing.