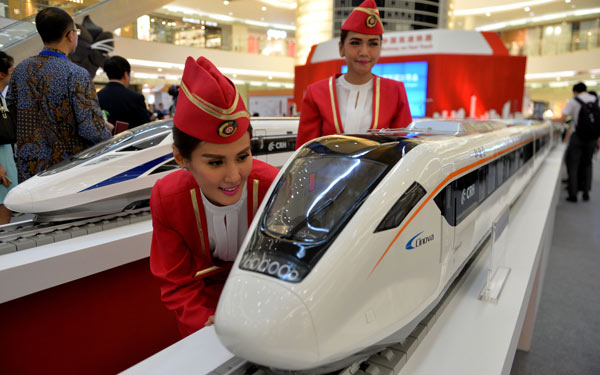 Indonesian women look at scale models of Chinese-made bullet trains on display at a shopping mall in Jakarta.[Photo/Agencies]
Indonesia's first high-speed railway, being built by China, will be a significant boost to the country's economy and act as a catalyst for other key infrastructure developments regionally, according to experts following the project.
Titissari Rumbogo, a planning and public policy scholar at the University of Indonesia, told China Daily the line will have a strong "multiplier effect" for economic growth in countries throughout Southeast Asia.
"It will be especially important in job creation, both in terms of construction and for local factories that are expected to produce train components," said Rumbogo.
The 150-kilometer line, slated to be completed by 2019, will connect the capital city Jakarta and the third-biggest city Bandung, stopping at four stations on the west side of Java during its first phase.
It will also involve the creation of many new residences along the route, according to Bintang Perbowo, president director of the Indonesian state construction firm, PT Wijaya Karya.
"With these new areas being opened up, people will choose to live there. There will also be the future development of a new city," Bintang told the Jakarta Post.
Harun al-Rasyid Lubis, executive director of Indonesia's Infrastructure Partnership & Knowledge Center, said the project was just the beginning of a wider national railway network, and urged the Indonesia government to extend the high-speed rail to Surabaya in eastern Java.
The high-speed railway is not only the first in Indonesia, but also in Southeast Asia, where new infrastructure development is currently in hot demand, and many view the ambitious project as becoming a blueprint for further regional infrastructure cooperation.
"China's success in this high-speed rail project will open up opportunities for it in other projects in Indonesia and other countries," said Emirza Adi Syailendra, a researcher at the S. Rajaratnam of International Studies at Nanyang Technological University in Singapore.
Despite being Southeast Asia's largest economy, Indonesia has missed most of its economic targets set for 2015, resulting in its slowest growth since 2009.
The Jakarta government is now banking on infrastructure development and foreign investment as part of a renewed push for economic growth, as its traditional raw material sectors struggle in current global economic conditions.
President Joko Widodo said in a cabinet meeting earlier this month that he wanted to see infrastructure development accelerate this year, particularly railway projects, Jakarta Post reported.
Emirza wrote in a recent note that a well-timed completion of the Jakarta-Bandung railway will also play well for Widodo's administration as a major economic accomplishment, especially as it is slated for completion in a national election year.