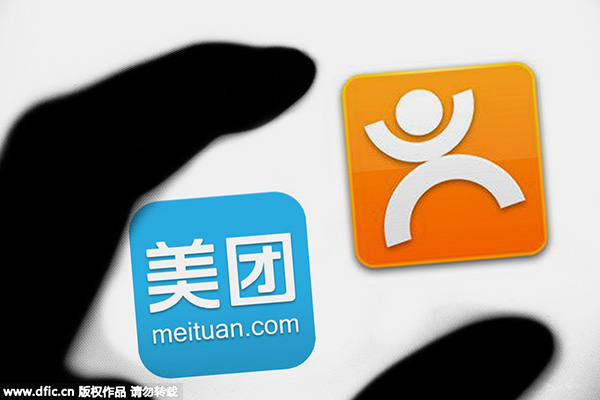 Meituan.com, a group-buying site backed by Alibaba Group Holdings Ltd and consumer review service Dianping.com, which is funded by Tencent Holdings Ltd, said in a joint statement that they have struck a strategic merger. [Photo/IC]
Chinese Internet company Meituan-Dianping announced on Tuesday that it has raised more than $3.3 billion in a funding round, valuing the company at $18 billion.
The deal is the largest single-round private financing in China's Internet industry up to date and the largest in the online-to-offline business section worldwide, according to Xinhua News Agency.
Leading investors include Tencent Holdings Ltd, Russian investment firm DST Global, and ChinTrust Bridge Partners.
Alibaba Group Holding Ltd, the original investor of Meituan, did not participate in the new round of financing.
Meituan-Dianping is the country's largest online-to-offline company, offering a wide range of services like group-buying, selling movie tickets and food delivery.
The company was formed in October when Tencent-backed Dianping and Alibaba-financed Meituan merged.
With 150 million monthly active users, it can handle 10 million orders every day. In 2015, its online transactions totaled 170 billion yuan ($26 billion), the company said in a statement.