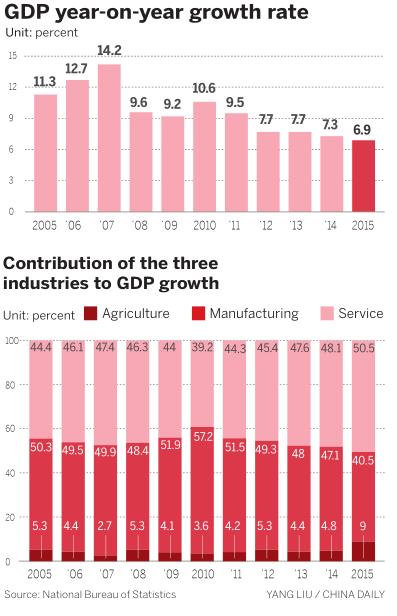 China will continue to experience an economic slowdown and major challenges have still to be met, forecasters said on Tuesday.
However, a major crash from a hard landing appears to be unlikely, they said.
The comments were made after the National Bureau of Statistics reported that economic growth fell to a 25-year low of 6.9 percent last year, down from 7.3 percent in 2014.
GDP grew by 6.8 percent in the fourth quarter, down from 6.9 percent in the third and 7 percent in the first two quarters last year.
Responding to the figures, Yicai.com, the website of the Chinese-language China Business News, said China is entering the "6 percent era".
The bureau said that last year the service sector contributed an unprecedented 50.5 percent of GDP growth, compared with 48.1 percent in 2014.
In contrast, the manufacturing sector, the economy's traditional growth leader, contributed 40.5 percent, down from 47.1 percent a year earlier.
Wang Bao'an, director of the bureau, said the change indicates that the economy is becoming more balanced.
Exports and industry, particularly heavy industry, are no longer the main engines to drive the nation's growth, according to the bureau.
Government-led investment in public infrastructure, the manufacturing of more high-value-added electronic systems, and e-commerce are the new leaders of the economy.
Zhu Jianfang, chief economist at CITIC Securities, said the economy will probably face even heavier downward pressure this year as a result of the closure of uncompetitive and polluting industrial plants.
Zhu Haibin, chief China economist at JPMorgan Chase & Co, said, "For the government, managing a soft landing without triggering a rise in unemployment or financial distress, and fostering new sources of growth through structural reform and countercyclical economic policies are challenging tasks."
A forecast by the Chinese Academy of Sciences on Jan 5 saw 6.5 percent GDP growth in the first half of this year. It said that growth may rebound moderately to 6.8 percent in the second half, as industrial overcapacity will remain to slow growth in real estate investment.
Economists expect more catalysts for sustainable growth this year, including new urbanization driven by land reform, household registration reform and improved public services, technological innovation and industrial upgrading, and economic openness.
All these have been highlighted by the top leadership as a new type of reform different to the traditional stimulus on the demand side — consumption, investment and exports — or "supply-side" reform.
Other major economic indicators released by the bureau included industrial output growth, which dropped to 6.1 percent last year from 8.3 percent in 2014, reaching the lowest level since the global financial crisis.
Fixed-asset investment growth fell to 10 percent from 15.7 percent in 2014, and retail sales dropped to 10.7 percent from 12 percent, the bureau said.
Tom Rafferty, lead China analyst at the Economist Intelligence Unit, suggested that the economy "pivot back" to its traditional growth drivers this year to sustain expansion.
"A warmer property market will provide some support, but the government also needs to accelerate efforts to restructure industry and tackle overcapacity," he said.
chenjia1@chinadaily.com.cn