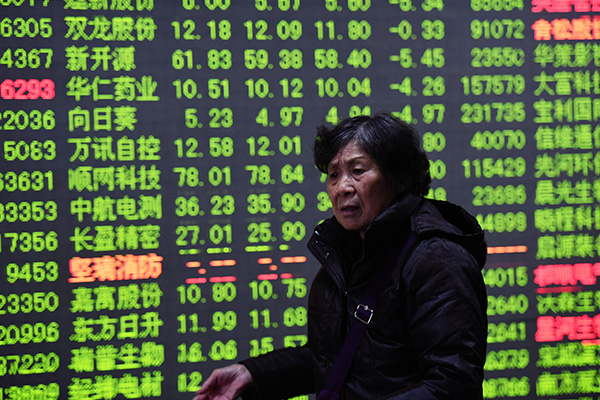 An investor walks past an electronic display showing prices of shares at a brokerage house in Hangzhou, East China's Zhejiang province, Jan 15, 2016. [Asianewsphoto by Long Wei]
Chinese stocks tumbled again on Friday, wiping out gains after August rout, as investors continue to worry about the volatility of the yuan.
The Shanghai Composite Index closed down 3.55 percent at 2900.97 points, dropping more than 20 percent from its December high.
The gauge sank below its low during the depths of a $5 trillion rout in August, the Bloomberg reported on Friday.
Friday's selloff is partially attributed to persistent concerns over renminbi volatility and media reports that some banks in Shanghai decided not to accept stocks of smaller listed companies as collateral for loans.
The CSI 300, a combination of the 300 biggest companies on the Shanghai and Shenzhen markets, also fell sharply by 3.19 percent to close at 3118.73.
The turbulent start to 2016, with currency and stock markets tumbling, had stoked concerns that Beijing's policymakers were in danger of fumbling as the country headed toward its slowest growth in 25 years.
"The key issue is that people don't have confidence in the economy, and the yuan remains under pressure to depreciate. Beijing can no longer pump liquidity into the economy as it would cause further falls in yuan's value," said Shen Weizheng, fund manager at Shanghai-based Ivy Capital.
The People's Bank of China set a slightly weaker mid-point rate for the yuan on Friday, but the fix has been broadly steady for more than a week, signaling a determination to hold the line against expectations of sustained depreciation.
Agencies contributed to this story.