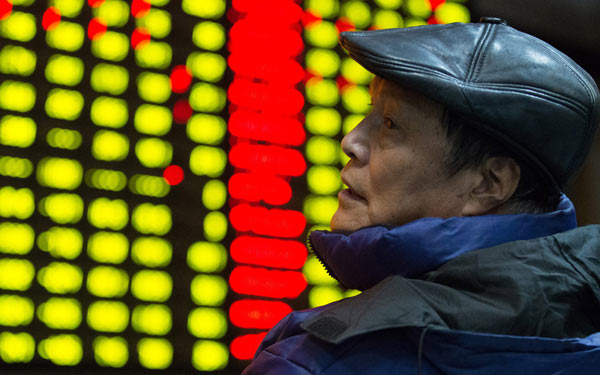 An investor checks stock prices at a securities brokerage in Nanjing, Jiangsu province. [Photo/China Daily]
At least 140 listed firms pledge to increase holdings, while 100 companies may keep away from exercise
Nine listed companies have unveiled share sales plans by their major shareholders since the securities regulator imposed new restrictions, indicating that the new rules have worked to curb massive share selling and prevent it from weighing on the country's fragile stock market.
Major shareholders of these companies have opted to sell their holdings through block trade, a permissible and privately negotiated equities transaction that takes place outside the public market.
Meanwhile, at least 140 listed companies have pledged to increase holdings of their own shares while about 100 companies promised not to sell the shares.
The new rules, effective from Friday, replaced the six-month ban on major shareholders for selling their holdings imposed by the China Securities Regulatory Commission in July to stem the summer market rout. Under the new rules, major shareholders can sell no more than 1 percent of their companies' total shares through public trading within three months. They are also required to disclose their selling plans 15 days prior to the sales.
Equity sales though privately negotiated block trading have also been restricted, with any single transaction being no less than 5 percent. This was designed to prevent shareholders from taking advantage of private trading and evading the new rules.
The new restrictions were designed to ease the massive selling pressure and to prevent it from burdening the stock market, which has slumped by 17 percent since the beginning of the year, analysts have said.
"It helped calm investors' nervousness in a market dominated by retail clients. The new regulation helped clarify market uncertainty about potential share sales by major shareholders," said a senior executive of a securities brokerage on condition of anonymity.
Statistics from Wind Information showed that 100 billion shares representing more than 1 trillion yuan ($152 billion) of market capitalization had been locked up over the past six months, which could have been sold any time from Jan 8 onward had no new rules been issued.
"With the new rules in place, sales of these shares will likely be a multi-year process. Given the "making announcement 15 trading days ahead" rule, share sales by major shareholders will be at a minimum in January," Wendy Liu, chief China strategist at Nomura Securities Inc said in a research note.
But some analysts warned that the new restriction could calm the market temporarily by delaying the correction but it can't erase the mounting selling pressure from the major shareholders, which still lingers as a negative factor for the Chinese stock market.