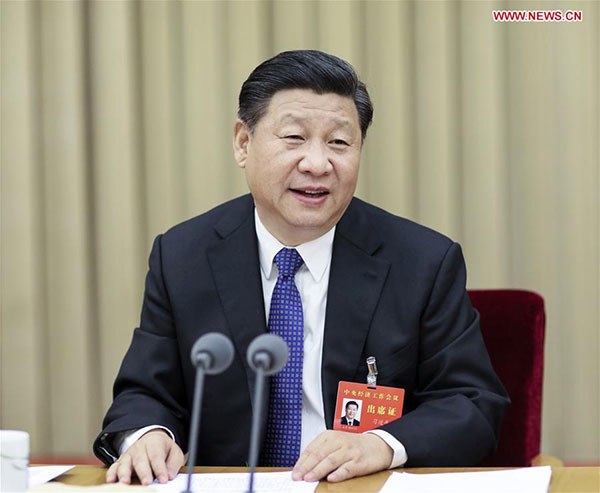 Chinese President Xi Jinping, also general secretary of the Communist Party of China (CPC) Central Committee and chairman of the Central Military Commission, speaks at the Central Urban Work Conference in Beijing. The conference was held in Beijing from Dec 20 to Dec 21. [Photo/Xinhua]
Nation to build more city clusters and grant equal rights to migrant workers
Urban development will be at the center of China's next stage of reform, according to the country's top leaders.
This will be accomplished by building more city clusters and giving migrant workers the same rights as their urban counterparts.
The pledge was made at the end of the Central Urban Work Conference on Monday, which was held along with the Central Economic Work Conference.
Urban policy-induced social changes are considered a key part of what Chinese leaders call "supply-side reforms" to fuel continuous growth.
The leaders are also confident of making cities more "pleasant and livable", with a better environment and social services, according to a statement released on Tuesday, when Beijing and other northern cities were blanketed by heavy smog.
Pollution has been singled out as one of the "urban malaises" that China will have to address in coming years.
The Central Urban Work Conference, the first of its kind in 37 years, was presided over by President Xi Jinping on Sunday and Monday.
The statement said China will work harder to improve city clusters on its eastern coast, expand new city clusters in central areas of the country, and build key regional hubs in western areas, "so that residents in central and western regions can share the fruits of urbanization".
It also called for an end to the frequent revisions of local development strategies.
"Once approved, urban development plans should be implemented consistently. New city leaders should not usher in a different development plan," the statement said.
Pan Jiahua, director of the Institute of Urban and Environmental Studies at the Chinese Academy of Social Sciences, said: "The statement is tantamount to criticism of cities that have changed development plans so rapidly along with their leadership changes."
The statement said it is a major government task to "transform migrant workers into real urbanities". Reform should be undertaken in the land, fiscal, education, housing and healthcare sectors to realize this goal.
It called for measures to restrict city expansion to avoid eroding farmland and ecological preservation zones. A low-carbon concept should be prioritized in city transportation, energy, power supply and waste treatment.
"The growth of a city should be about the elevation of its quality, not expansion of boundaries", the statement said.
The statement also called for the building of urban public infrastructure to be speeded up, and a target was set to completely transform shantytowns by 2020.
Shi Minjun, a researcher at the Chinese Academy of Sciences, said that when transferring industrial facilities from developed cities to less prosperous areas, the government should prevent pollution being transferred to these areas.