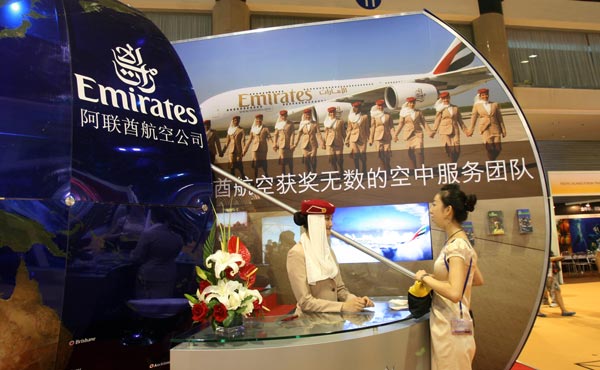 The booth of Emirates Airline at an industry expo in Beijing.[Chen Xiaogen/For China Daily]
Dubai-based carrier Emirates Airline is expanding its services in China with the addition of flights to Zhengzhou in Henan province and Yinchuan in the Ningxia Hui autonomous region.
The Gulf carrier will start four weekly flights to the new destinations, both of which are major economic hubs on the Belt and Road trade route, from May 2016. The airline will use Boeing 777-200LR aircraft with 266 seats and a cargo capacity of 14 tons.
Emirates was the first carrier to start nonstop flights from China to destinations in the Middle East in 2004. However, other carriers such as Air China Co Ltd, China Southern Airlines Co Ltd and Hainan Airlines Co also operate flights to the Middle East, said industry experts.
The connection to Zhengzhou is seen important as it is the first connection from the region to Dubai. Zhengzhou is located in central China and is a major connection point on the Silk Road Economic Belt and the 21st Century Maritime Silk Road.
The region is actively involved in the Belt and Road Initiative and is building up its capabilities as an international traffic hub, said Wu Tianjun, Party chief of Zhengzhou.
According to Wu, air freight is another business that holds immense growth potential, as the city's airport saw the largest growth in cargo volumes during the past three years in China. The Emirates flights are expected to boost export of popular commodities and mobile phones from Zhengzhou, goji berries and cashmere from Yinchuan.
That said, Dubai is also well-positioned to support China in its trade goals, as the city is located on the crossroads of the East and West. Emirates Airline currently operates flights to 30 of the 65 countries along the Belt and Road Initiative.
Yu Nan, an analyst from Haitong Securities Co, said: "The new trade initiative will stimulate business travel demand from and to China."
"Emirates will continue to expand its services in China as the country further opens up to the global economy," said Ahmed bin Saeed Al Maktoum, the airline's chairman and chief executive.
Dubai is already home to more than 3,000 Chinese companies and about 200,000 Chinese residents, he said.
Emirates Airline is also considering daily services to Hangzhou in Zhejiang province and Chongqing, as well as a second daily service to Guangzhou, said Al Maktoum.