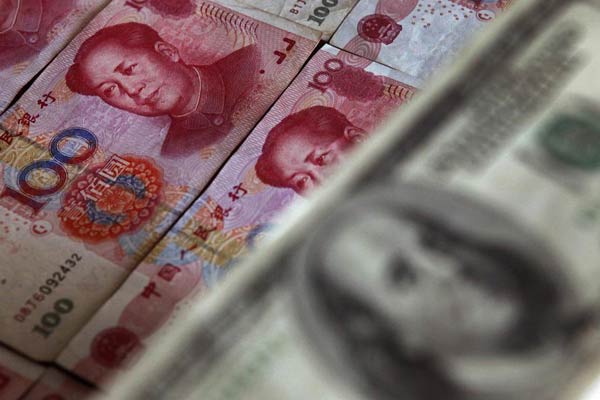 A photo illustration shows a $100 banknote placed above Chinese 100 yuan banknotes in Beijing in this May 10, 2013 file photo. [Photo/Agencies]
BEIJING - The central parity rate of the Chinese currency renminbi, or the yuan, weakened for the sixth consecutive day to its lowest level against the US dollar since July 2011, on Monday.
The yuan weakened by 137 basis points to 6.4495 on Monday, according to the China Foreign Exchange Trading System (CFETS).
The correction came after the Chinese currency had appreciated 2.93 percent against the US dollar as of November, compared with the end of 2014, according to CFETS.
"CFETS, run by the People's Bank of China (PBOC), launched a trade-weighted index for the renminbi last Friday. The basket includes 13 currencies listed on CFETS, whose weights are based on China's trade with the economies in question and adjusted for re-exports," according to the CICC Macro team's report on renminbi released on Monday.
The PBOC suggested that the market should view the renminbi's strength relative to a basket of currencies rather than just the US dollar.
"The PBOC may intend to keep the yuan broadly stable relative to the basket while introducing greater flexibility against the USD," said CICC analysts, adding that the renminbi's bilateral exchange rage against the US dollar will continue to be the most closely watched indicator.
In China's spot foreign exchange market, the yuan is allowed to rise or fall by 2 percent from the central parity rate each trading day.
The central parity rate of the yuan against the US dollar is based on a weighted average of prices offered by market makers before the opening of the interbank market each business day.