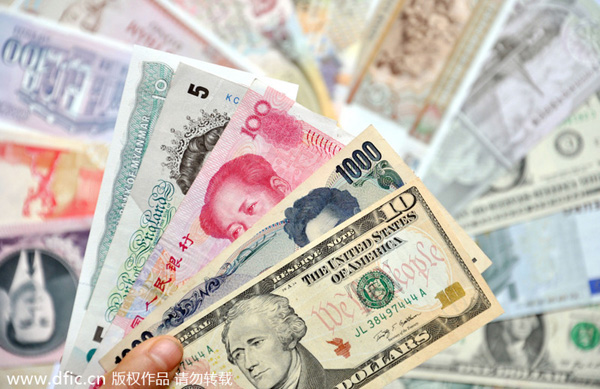 Foreign currencies are placed next to 100 yuan banknote. [Photo/IC]
BEIJING - China Foreign Exchange Trade System (CFETS) on Friday released a yuan exchange rate composite index that measures the currency's strength relative to a basket of other currencies to better reflect the market.
The index is calculated by comparing yuan to the average value of the 13 foreign currencies, including the US dollar, Euro and Japanese yen, weighted according to the trade volume with China, according to the CFETS.
On November 30, the index stood at 102.93, which means that yuan has appreciated 2.93 percent compared to the level at the end of 2014, the CFETS said.
"The data shows that although yuan has weakened against the US dollar in 2015...it remains strong among major global currencies," said a commentary published on the CFETS website.
The move is part of efforts to offer a more comprehensive reflection of market changes. Previously, market watchers have mainly fixated on the yuan-US dollar rate.
The CFETS index will help the market to change the usual practice and gradually use the composite index as a reference, which is conducive to keeping the rate stable at a reasonable level, the commentary reads.
Friday's move came as the Chinese currency has weakened against the US dollar for several days. The central parity rate of yuan weakened by 122 basis points to 6.4358 against the US dollar on Friday, the lowest level in over four years.
In a reassuring message to the market, Wang Chunying, an official of the State Administration of Foreign Exchange told a press conference on Thursday that current fluctuations of the exchange rate should not be seen as a sign of devaluation.
Wang said more consideration should be taken of the RMB multilateral exchange rate against a basket of currencies and its long-term trend.