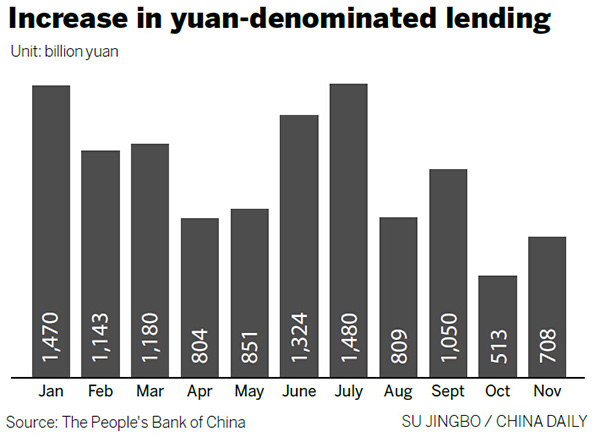 The amount of new loans in China accelerated less than expected in November, the People's Bank of China reported on Friday, lending only weak support for an economic rebound.
New loans grew by 708 billion yuan ($110 billion) in November, compared to a 513 billion yuan increase in October.
By the end of November, outstanding yuan loans reached 93.36 trillion, a 14.9 percent increase year-on-year, though the growth rate was 0.5 percent points lower than the previous month.
Both individuals and companies increased their borrowing last month, but middle to long-term business loans continued to fall, official data from the bank indicated.
"Sluggish bank lending has not yet changed," said Qu Hongbin, chief economist in China at HSBC Holdings. "Its support for real economic growth remained weak."
Market expectations were for new loan growth of 735 billion yuan.
With export demand still low and deflationary pressure growing, especially in the manufacturing sector, the central bank may further ease monetary policy to ensure stable GDP growth, Qu said.
Shi Zihai, spokesman of the National Development and Reform Commission, the country's top economy planner, said at a news conference on Friday that in the first 11 months this year, the commission approved 248 fixed-asset investment projects worth a total of 2 trillion yuan.
In November, total funding of 101.2 billion yuan was invested in 11 projects, he said.
Investment, however, lost its position this year as the strongest driving force of China's economy since the global financial crisis. In addition, overcapacity and outdated production technology in the manufacturing sector has reduced investment efficiency.
In the first three quarters of the year, consumer demand contributed 58.4 percent to GDP growth, up 9.3 percentage points from a year earlier, surpassing investment and net exports to become the largest growth engine, according to the NDRC.
"Economic growth in the fourth quarter is stable, and we are confident of achieving the annual growth target, which is around 7 percent," the NDRC spokesman told China Daily on the sidelines of the news conference, admitting that deflation is threatening growth.
In the third quarter, the country's GDP growth slowed to 6.9 percent from 7 percent in the second quarter, the lowest since 2009.
Louis Kuijs, an economist at Oxford Economics, forecast that China's economic growth is likely to slow to 6.3 percent in 2016, because real estate construction and manufacturing investment may remain weak.
But Kuijs noted that the share of the service sector in the GDP will have risen by 2 percentage points in 2015, and now accounts for more than half of GDP.