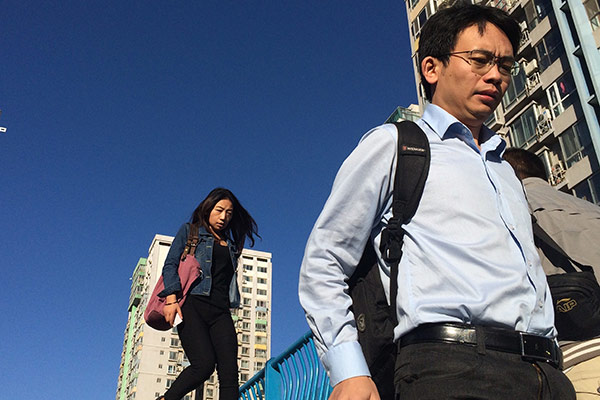 Two office workers walk past an overpass in Beijing. For young people, living in big cities such as Beijing means better lifestyle and greater chance of success.[BAI JIKAI/FOR CHINA DAILY]
China's industrial economy declined further in the third quarter, with 98 percent of firms thinking it is a neutral or bad time for investment, according to an independent report published by the Cheung Kong Graduate School of Business on Thursday.
Business Sentiment Index, a key gauge in the survey, sank to 47, down from 50 in the first quarter. The vast majority of firms surveyed expect operating conditions to be similar in the next quarter, with deflation now a reality. Fixed investments are the largest problem at the moment, with only 2 percent of firms making investments, down from 9 percent in the second quarter, according to the survey result.
The survey found excess capacity worsened in the third quarter, with 56 percent of responded firms reported supply exceeds demand, the highest ratio ever seen since the second quarter of 2014. "Lack of orders" was identified by 70 percent firms as the largest factor hindering their production, far higher than the factor of rising labor cost (14 percent) and material cost (9 percent).
Gan Jie, the school's Professor of Finance and chief author of the report, said any quick recovery is unlikely, as problems are structural and fundamental. Industrial policy is key to a rebound, including industry upgrade and technological innovation. Easing monetary policy will not help industrial economy.
Described as the first of its kind, Gan's quarterly survey is based on stratified random sampling by industry, region and size from the National Bureau of Statistics' population of 488,000 industrial firms that have sales of over 5 million yuan. The survey has around 2,000 responding firms each time.