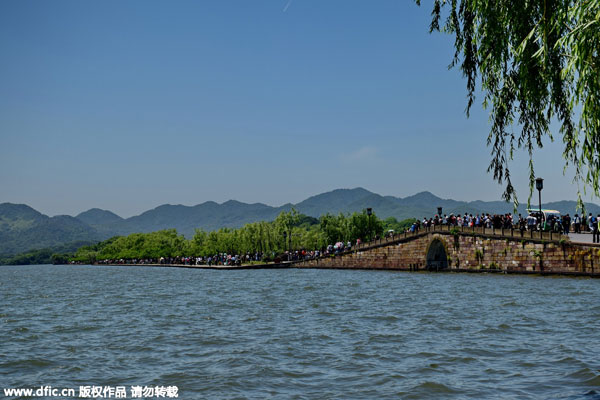 The West Lake of Hangzhou, capital of east China's Zhejiang province. [Photo/IC]
HANGZHOU - A district government in East China's Zhejiang province has announced subsidies of up to 800,000 yuan ($125,000) to homebuyers in an attempt to cut house inventories.
Fuyang District of the provincial capital Hangzhou, will give 1 percent of the purchase price as subsidy for commercial house buyers, according to a government notice released on Tuesday.
Those who have signed a three-year or longer labor contract with enterprises or public institutions in Fuyang will get more subsidies according to their diploma level. Bachelors can get 1.5 percent of the purchase price with a maximum of 30,000 yuan as subsidy; masters can get 3 percent of the purchase price with a maximum of 50,000 yuan. Those holding doctorates can get 10 percent of the purchase price up to a maximum of 150,000 yuan.
Academicians of the Chinese Academy of Sciences and Chinese Academy of Engineering can apply for up to 800,000 yuan.
Fuyang has a house inventory of 10,136 units, which will require at least 21 months for the market to digest, according to the tmsf.com, a local real estate agent.
Fuyang is not alone in offering subsidies to homebuyers.
Puyang city from Central China's Henan province announced earlier this month of subsidies of 150 yuan per square meter for rural residents who wish to buy commercial houses in urban areas.
China's housing market turned downward in 2014 due to weak demand and over supply. This continued into 2015, with both sales and prices falling, and investment slowing.
According to the National Bureau of Statistics, the unsold home inventory hit a record 686.3 million square meters in October, up 17.8 percent from the previous year.