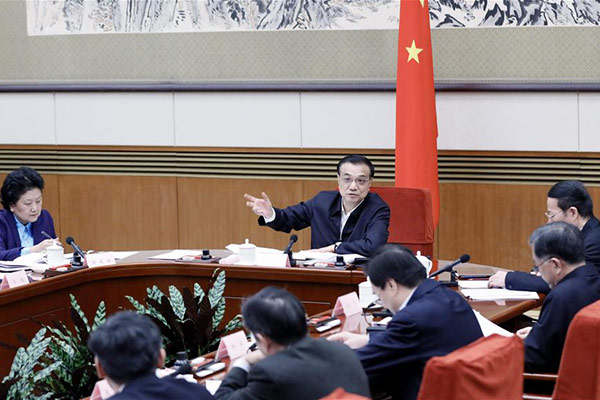 Chinese Premier Li Keqiang (C) presides over a symposium on economic work in Beijing, capital of China, Dec 2, 2015.[Photo/Xinhua]
BEIJING - China will intensify structural reforms on both the supply and demand sides in 2016 to prompt steady growth, Premier Li Keqiang told Chinese economists on Thursday.
"To ensure a sound start to the 2016-2020 development period, China must be innovative in supply while stimulating demand," Li said at a seminar in Beijing.
On the supply side, China should maintain structural tax reductions to boost the service and advanced manufacturing sectors and support small enterprises, and push forward entrepreneurship and innovation, he said.
"To accelerate demand-side reforms, China will continue to guide and stimulate consumption needs by providing better merchandise and services and encourage consumption in the information, tourism and green sectors," according to the premier.
Confronted with looming downward pressures, China is overhauling its economic structure to encourage consumer spending.
Li said China will encourage a mix of official funds and private capital in investment and push forward urbanization, industrial upgrades and livelihood projects.
China will keep cutting red tape to foster emerging industries and speed up the overhaul in traditional industries to improve efficiency, he also promised.