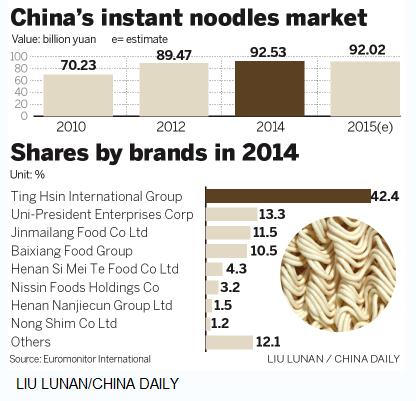 Nissin Foods Holdings Co Ltd, the Japanese instant noodle maker, has ended a collaboration with its Chinese partner to focus more on supplying premium products to the market.
The Japanese firm has sold its interest in three joint-venture operations for 450 million yuan ($70.3 million) to Jinmailang Investment Co Ltd.
Koki Ando, president, representative director and CEO of Nissin Foods Holdings, said that in the future, the company would focus on expanding its business in China through local subsidiaries, without elaborating on exactly why the agreement had been ended.
Nissin is the original creator of instant noodles, launching its first brands in 1958.
According to market intelligence firm Euromonitor International, China's instant noodle market is currently worth 92.02 billion yuan, down from 92.53 billion yuan in 2014.
Ting Hsin International Group had 40.5 percent of the instant noodle market this year, and its share in 2014 was 42.4 percent. The share of Nissin Foods was 3.6 percent this year, compared with 3.2 percent in 2014.
According to Nissin Foods Holdings' financial statement ended March 31, sales of the Chinese versions of its cup noodles were rising mainly in areas where its products had been newly introduced, as well as the eastern and southern areas of China where they are popular with younger consumers.
According to recent figures on the China market from Mintel Group Ltd, 80 percent of those surveyed said they planned to consume less instant noodles to become healthier, with just 16 percent remaining resolute they would stick with instant noodles.
Li Yujing, a senior analyst at Mintel, said China's instant noodle market has dropped in value over the past two years, as consumers become more health conscious, and that was the most likely reason for Nissin's shift in strategy, toward selling more of its own products.
She said there has also been a growing preference for foreign brands of instant noodles, particularly in the larger cities such as Beijing and Shanghai, which also bodes well for Nissin.