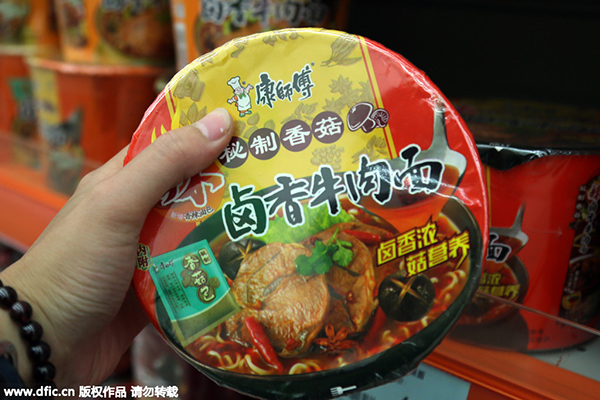 A customer shops for Master Kong instant noodle of Ting Hsin International Group at a supermarket in Shanghai, Sept 18, 2014. [Photo/IC]
Tingyi Holding Corp on Monday denied that its instant noodles sold on the Chinese mainland were ever affected by a cooking oil scandal.
A spokesperson for the company based in North China's Tianjin municipality said the company will take legal measures against a rumormonger who had spread the story on the Internet.
In a video online, a Taiwan tour guide told tourists from the mainland to boycott all products from Tingyi as they were all involved in the latest food safety incident in Taiwan.
Last year, Ting Hsin International Group, the parent company of Tingyi, and many of Ting Hsin's suppliers were found selling cooking oil tainted with animal feed.
However, Tingyi said none of its noodles produced and sold on the mainland used ingredients supplied from Taiwan.
All Tingyi's products comply with national safety and hygiene standards, it added.
Tingyi has reported the case to the police and is awaiting an investigation.
In November 2013, the company was reported to be linked to a counterfeit olive oil scandal in Taiwan.
In September 14, 2014, Tingyi's instant noodle company Master Kong has admitted that one of its products, Roasted Pork Noodle, sold by Wei Chuan Corp in Taiwan, was made with poor-quality edible oil.
Wei Ying-chung, chairman of Wei Chuan Corp, once said the company will adopt stricter quality control measures and safety rules to prevent similar scandals happening again.
Accroding to previous reports by Reuters, in March this year, Tingyi said total revenue was $10.2 billion in 2014, down from $10.9 billion a year earlier, the first sales drop since 1998. The number was squeezed by a 4.5 percent drop in instant noodle sales, which accounted for 40.4 percent of revenue, and a 7.5 percent drop in beverage sales, contributing 56.7 percent of revenue.
The firm said in the filing it would focus on cost-cutting this year, with plans to reduce staff numbers in some segments and to look to mobile channels to boost sales.
In July, 2015, Taiwan had pushed for an amendment to the law to raise prison terms and fines for food safety violations, and it offered whistleblowers more incentives in the wake of the "gutter oil" scandal.
Hundreds of tons of cakes, bread, instant noodles, cookies, steamed buns and dumplings had to be removed from shelves in Taiwan and Hong Kong when the case surfaced, authorities said.
Hong Kong government also unveiled a proposed regulatory regime to regulate the manufacture and recycling of edible oils, after the city was identified as one of the places where gutter oil originated from following the Taiwan lard scandal.