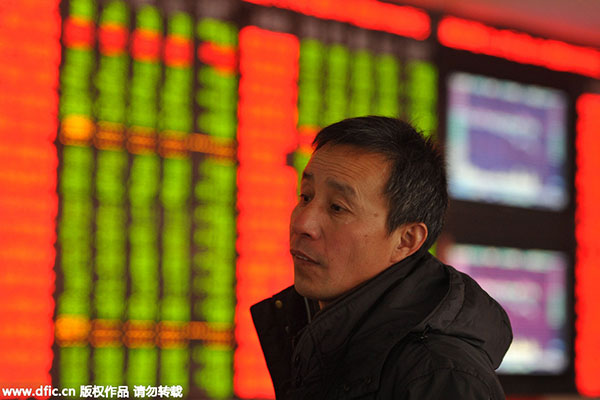 An investor walks past an electronic trading screen at a brokerage in Fuyang, Anhui province, Nov 27, 2015. [Photo/IC]
Stocks plunged by the most in three months on Friday, as some of the country's largest brokerages came under regulatory probes.
The benchmark Shanghai Composite Index closed at 3,436.30, down 5.5 percent after losing as much as 6.1 percent. The smaller Shenzhen Component Index slid 6.3 percent to 11,961.70.
Brokerages led the decline, as an industrial gauge slumped 9.4 percent. Haitong Securities suspended trading as Reuters and Caixin reported it became the latest brokerage to come under investigation.
CITIC and Guosen Securities tumbled by the daily limit of 10 percent after announcing they were under probe by the China Securities Regulatory Commission (CSRC) for alleged rule violations and would cooperate with the regulator.
About 17 other brokerages also fell by 10 percent on Friday, as investors fear the investigation might spread further.
Guotai Junan dropped 8 percent, after its subsidiary earlier this week reported to Hong Kong Stock Exchange that it cannot contact its chairman and chief executive officer Yim Fung.
In August, four senior executives at CITIC Securities confessed to insider trading during an investigation into the market crash, according to Xinhua.
Probes in the finance sector came as the CSRC tried to examine the country's summer stock market rout during which the Shanghai gauge fell from as high as 5,178.19 in mid-June to as low as 2,850.71 in late August.
Market confidence has picked up since, as China re-enters into a bull market with a more than 20-percent rebound. The CSRC resumed initial public offerings for 10 companies after a five-month freeze, said the regulator in November.
The Shanghai index has gained 6.2 percent since beginning of the year as of Friday closing.