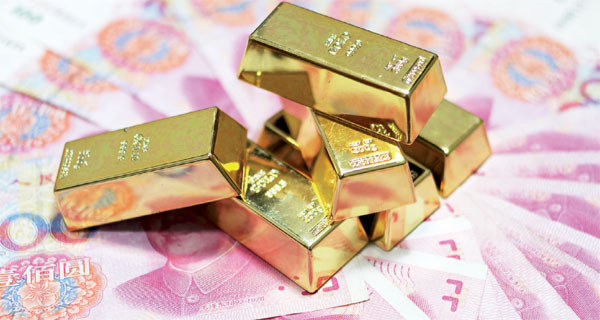 The Shanghai Gold Exchange is to launch the yuan-denominated gold index this year, predicted to increase China's gold pricing power. [Photo provided to China Daily]
BEIJING - China's gold consumption rose 7.83 percent year on year to 814 tons in the first three quarters, industry data showed on Wednesday.
The rebound followed the 24.7-percent plunge last year, according to data released by China Gold Association (CGA).
The association attributed the recovery to increasing consumption of gold bars, which rose 18.6 percent to 142 tons for the period, as gold prices have stayed stable compared with other commodity prices.
Consumption of gold jewelry went up 1.65 percent to 591 tons, while that for industrial use came in at 65 tons.
Meanwhile, China produced 357 tons of gold during January-September, an increase of 1.48 percent from a year earlier, according to the association.
By the end of September, China's gold reserve has reached 1,700 tons, up from the 1,660 tons in June.
The CGA predicted consumption will continue to recover in 2015, cementing the country's position as the world's largest consumer of gold.