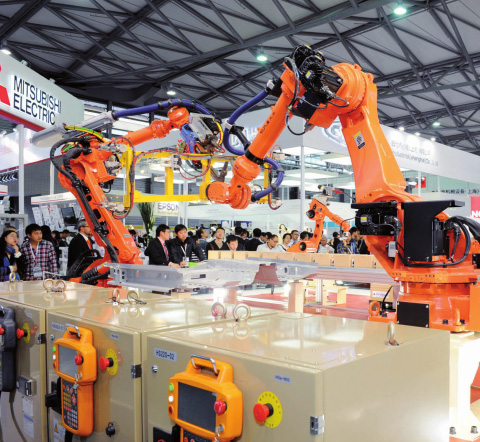 The China International Industry Fair is one of the nation's most influential industrial expos. [Photo provided China Daily]
The 17th China International Industry Fair, which began on Nov 3 in Shanghai, focuses on the upgrading of Chinese industry and showcases the latest global achievements in high-end manufacturing.
Jointly organized by the Shanghai government and a number of Chinese ministries, the five-day event includes nine exhibitions that cover 230,000 square meters in the newly built Shanghai National Exhibition and Convention Center.
The themes of the exhibitions include metalworking, industrial automation, environmental protection, information technology and telecommunications, new-energy cars, robotics and aerospace and aviation technologies.
As the idea of smart manufacturing includes many elements such as numerical control machine tools, robots and IT, exhibitors not only display products and technologies, but also focus on overall manufacturing solutions, said organizers.
At previous fairs, most exhibitors showed a single type of product but this year, more of them plan to integrate different products to form complete systems.
One example is Qinchuan Machine Tool Group, which will present an automatic production system made up of two computer numerical control lathes and a robot.
Many global industry leaders have brought cutting-edge technologies and concepts to the fair, including two giants from Germany. Siemens is showcasing its Totally Integrated Automation system, and Phoenix Contact brought its Profi-Cloud, an industrial cloud computing technology that has been nominated for a Hermes Creative Award.
Some domestic companies with world-class competence are also taking part in the show. Suzhou Bozhong Precision Industry Technology, a provider for Apple Inc, made its debut at the fair with a 600-square-meter booth displaying three automation solutions.
In March, the Ministry of Industry and Information Technology unveiled 46 national pilot projects for smart manufacturing, covering 38 industries in 21 regions nationwide. The fair will have an area displaying the achievements of these projects to promote their experience.
Several forums are planned during the event, with focuses including the robotics industry, smart city development, industrial design, new-energy cars and high-end numerical control machine tools.
The fair attracted more than 2,200 exhibitors, an increase of nearly 40 percent from last year, coming from nearly 30 countries and regions around the world.
Organizers said industrialization is the heart of modernization, and manufacturing is the foundation of a strong and prosperous country.
The event is one of China's largest and most influential international industrial galas, and will promote the nation's industrial restructuring by showcasing the world's most advanced smart manufacturing technologies, said organizers.