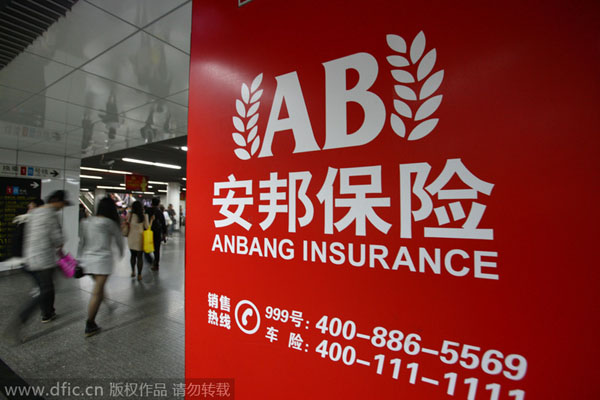 Passengers walk past an advertisement for Anbang Insurance Group at a subway station in Shanghai, Oct 18, 2012. [Photo/IC]
Chinese insurers, having benefited from a strong acquisition currency, are set to continue their global expansion despite yuan's recent slump, said a managing director with Moody's.
A low interest rate environment and regulatory changes in the US and EU provide rare merger and acquisition (M&As) opportunities, said Simon Harris, managing director for global insurance and managed investments with the rating agency.
"This year marks one of the highest levels for insurance M&As, with many coming from China and Japan," he said in a press conference on Monday, adding that "expansion outside China has been a key theme for some time and is expected to continue."
Although renminbi exchange rate encountered fluctuation, it has shown long-term strength against US dollar and euro, added Harris.
China has seen a growing interest in outbound M&As, as Anbang Insurance, Fosun Group and China Minsheng have announced their plans to acquire global insurance assets for combined $6.1 billion so far this year, according to Moody's.
Global buyers
"M&As offer good diversification," said Harris, adding that for most of acquirers, it is not the first time that they acquired outside home market.
US, the major M&As destination, has been driven by significant changes to its healthcare system, whereas the combination of low interest rate and Solvency II, a new risk-oriented regulatory scheme, is giving European firms a difficult time, said the veteran.
Global expansion allows companies to reduce concentration on domestic market and buy insurance assets at sometimes low prices, he said.
The agency expects the ongoing M&A trend to continue unless there's a significant change in interest rate environment or drastic equity correction.
Integration risk
The three major deals made by Chinese insurers haven't affected their ratings, said Harris, while adding that it's typical for Moody's to issue negative response, as acquirers often would have a higher level of debt funding and integration risk can be significant.
"Insurers have lots of different IT systems and different ways of distribution," he said.
However, Harris noted that the long-term impact could be credit positive, by expanding franchise and introducing new products.
"If you look at successful insurers globally, they are the products of many mergers and acquisitions," he said, "it takes time for them to become the global machines as they are now, and technology and IT is different now.
Major M&A deals made by Chinese insurers so far this year:
-On Feb 15, Anbang announces it will acquire VIVAT in Netherlands for $2.1 billion. The company acquired FIDEA Insurance and Delta Lloyd Bank in Belgium in 2014.
-On May 15, Fosun says it will acquire Ironshore in the US for $1.8 billion. Earlier, It also required Meadowbrook in the US and Fidelidade in Portugal.
-On July 15, China Minsheng announces it will acquire reinsurer Sirius International in Sweden for $2.2 billion.