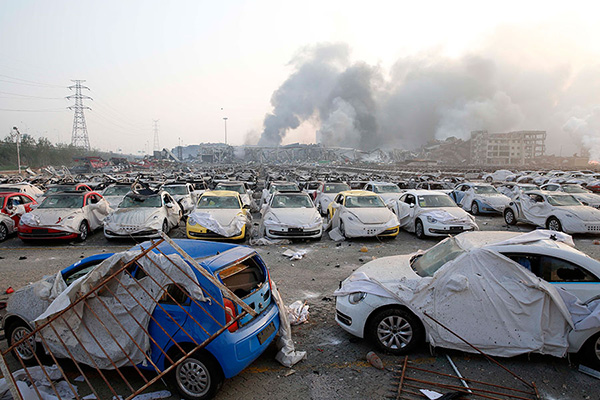 Smoke rises over damaged containers and cars after a huge explosion rocked the port city of North China's Tianjin, August 13, 2015. [Photo by Shan Haihan/ China Daily]
BEIJING -- The China Insurance Regulatory Commission (CIRC) has asked for a quick response to insurance claims following the deadly blasts in the northern port city Tianjin.
The death toll has risen to 85, including 21 firemen. Over 700 others were taken to hospital.
Insurance firms in Tianjin should prioritize claims related to the blasts, the CIRC said in an emergency notice Friday night.
The commission asked insurance companies to have adequate funding on hand and work round the clock to support to families of victims.
Major insurance companies, including Ping An and China Life, already have emergency response plans in place.