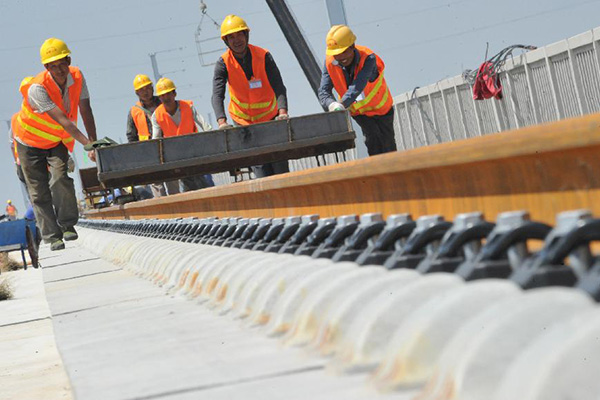 China Railway Erju Co Ltd's workers construct a railway project in Yuncheng, Shanxi province. [Photo/Xinhua]

Company may integrate assets with its main subsidiary Erju to fully optimize resources
Trading in China Railway Group Ltd shares was suspended on Monday, as the company revealed it plans to integrate its assets with those of main subsidiary, China Railway Erju Co Ltd.
They will resume trading within five working days, the company said in a Shanghai Stock Exchange announcement on Sunday.
The plans also came on the same day the central government released wider details of how it will restructure the SOE sector, with partial privatizations revealed as core to those blueprints.
The government is moving quickly on plans to reform its titan but inefficient SOEs, including its rail assets, as well as pushing companies to chase more overseas projects.
In March, it merged the nation's two largest train manufacturers-CNR Corp and CSR Corp-into rail giant, China Railway Rolling Stock Corp.
Other railway industry reforms are likely to include an equipment and infrastructure project to attract suitable investment from the private sector.
China Railway Group's main source of income is rail infrastructure construction, while other operations include road construction, municipal engineering, construction equipment manufacture and real estate development. It has also been involved in tunnel and underground projects.
It sealed 934.6 billion yuan ($146.8 billion) worth of new deals last year, a 0.5 percent annual rise. Operating revenue hit 274.78 billion yuan in the first half of 2015.
Established in 1950, China Railway Erju Co's core businesses are construction and real estate development, but it is also capable of carrying out railway, road, urban rail transit and earthwork projects. It is yet to work overseas.
Erju's operating revenue totaled 24.1 billion yuan in the first half of this year, a 27.3 percent fall from a year earlier.
Liao Mingbing, an infrastructure analyst with China International Capital Corp in Beijing, said after China Railway Group restructured its own design, electrification and investment operations in 2014, this latest move for Erju is designed to optimize the two companies' resources, to tackle more international business, as well as avoiding hostile competition.
Ge Shunqi, a professor in international economics at Nankai University in Tianjin, said the government's SOE reforms are aimed at ensuring quality and efficiency in economic growth, as well as accelerating the country's overall economic restructuring.
"Similar reforms will also be applied to China's shipping, shipbuilding and heavy industry companies, to tackle cumbersome issues such as overcapacity, price war and technology bottleneck," Ge said.