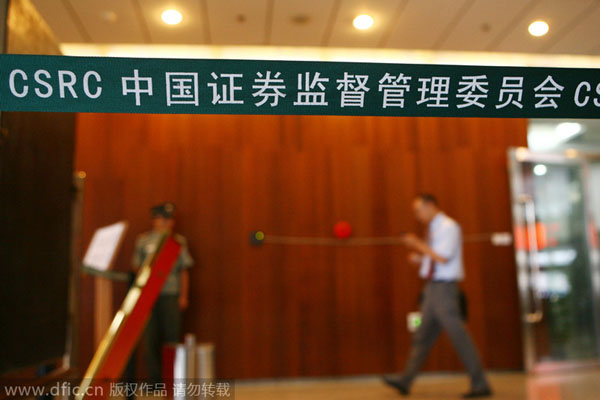 The headquarters of China Securities Regulatory Commission in Beijing, July 7, 2006. [Photo/IC]
BEIJING - China issued a notice Monday encouraging mergers, cash bonuses and share repurchases by listed companies as part of its efforts to push forward reforms of State-owned enterprises and promote the steady and healthy development of the capital market.
The notice was jointly announced by China Securities Regulatory Commission, Ministry of Finance, State-owned Assets Supervision and Administration Commission of the State Council and China Banking Regulatory Commission.
The notice took effect Monday.
The value of mergers and acquisitions (M&A) among listed companies totaled nearly 1.27 trillion yuan ($198.77 billion) in the first seven months this year, accounting for 87.5 percent of the overall value registered last year.
The notice also encouraged cash bonuses among listed companies. State-controlled listed companies took the lead, accounting for 76.9 percent of the total cash bonuses made in 2014.
As an important way to repay investors, listed companies should repurchase their shares in due time, said the notice. Of the entire share repurchases published by the Shanghai and Shenzhen bourses since July this year, 72.8 percent were made by State-controlled listed companies.
The notice also vowed to push forward market-oriented reforms and further cut red tape in order to facilitate the implementation of mergers, cash bonuses and share repurchases.