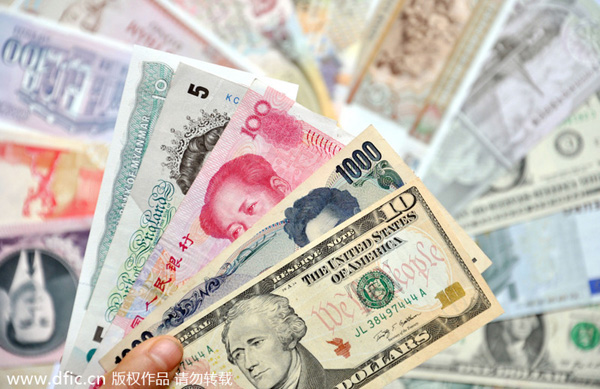 Photo taken on March 16, 2014, shows yuan (central) and other currencies in the picture. [Photo/IC]
BEIJING - Chinese currency continued to fall on Wednesday after the central bank reformed the exchange rate formation system to better reflect the market.
The central parity rate of renminbi, or yuan, weakened by 1,008 basis points, or 1.6 percent, to 6.3306 against the US dollar, narrowing from Tuesday's 2 percent, according to the China Foreign Exchange Trading System.
The People's Bank of China (PBOC), the central bank, changed the exchange rate formation system so that it takes into consideration the closing rate of the inter-bank foreign exchange market on the previous day, supply and demand in the market and price movement of major currencies.
The International Monetary Fund (IMF) described the central bank's move as "a welcome step" that allows market forces to have a greater role in determining the exchange rate.
"Greater exchange rate flexibility is important for China as it strives to give market-forces a decisive role in the economy and is rapidly integrating into global financial markets," an IMF spokesperson said in an email on Wednesday.
The IMF said it believes the country can achieve an effective floating exchange rate system within two or three years.
However, the move still surprised the market and prompted the lowest valuation of the yuan since October 2012.
Ma Jun, chief economist at the PBOC's research bureau, attributed the lower rate to a long-standing gap between the central parity rate and the previous day's closing rate on the inter-bank market.
In a latest statement released on Wednesday, the PBOC said the rate changes are normal, as it shows a more market-based system and the decisive role that the supply-demand relationship plays in determining the exchange rate.
"This may lead to potentially significant fluctuations in the short run but after a short period of adaptation the intra-day exchange rate movements and resulting central parity fluctuations will converge to a reasonably stable zone," the PBOC said.
Ma also said the shift is a one-off technical correction and should not be interpreted as an indicator of future depreciation.
A relatively robust economy, current account surplus and the internationalization of the yuan will help the currency remain stable, the PBOC said.