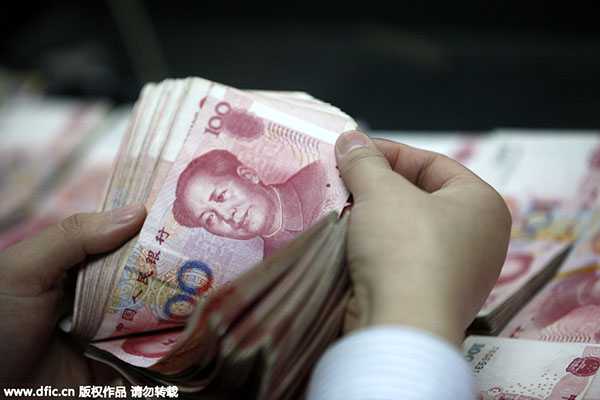 A Chinese clerk counts RMB (renminbi) yuan banknotes at a bank in Huaibei city, East China's Anhui province, January 22, 2015.
China's yuan weakened sharply in early trade on Tuesday, heading for its biggest one-day drop after the central bank surprised the market with reforms that paved the way for the currency's depreciation.
The People's Bank of China cut its daily reference rate for the currency by a record 1.9 percent, triggering the yuan's biggest one-day loss since China unified official and market exchange rates in January 1994.
The change was a one-time adjustment, the central bank said in a statement, adding that it plans to keep the yuan stable at a "reasonable" level and will strengthen the market's role in determining the fixing.
PBOC said in the statement it was now basing the yuan's midpoint on market makers' quotes and the previous day's closing price. The yuan midpoint weakened to 6.2298 per dollar, compared with the 6.1162 mid-point on Monday, its biggest move in the fixing on record.
"It looks like this is the end of the fixing as we know it," Bloomberg News cited Khoon Goh, a Singapore-based strategist at Australia & New Zealand Banking Group Ltd. "The one-off devaluation of the fix and allowing more market-based determination takes us into a new currency regime."
The news agency said the PBOC had been supporting the yuan to deter capital outflows and encourage greater global usage as China pushes for official reserve status at the International Monetary Fund. The intervention contributed to a $300 billion slide in the nation's foreign-exchange reserves over the last four quarters and made the yuan the best performer in emerging markets, eroding the competitiveness of Chinese exports.
The currency dropped 1.4 percent to 6.2980 per dollar as of 11:12 am in Shanghai, and slid 1.6 percent in Hong Kong's offshore trading. The onshore spot rate was 1.1 percent weaker than the reference rate of 6.2298, within the 2 percent limit allowed by the central bank.