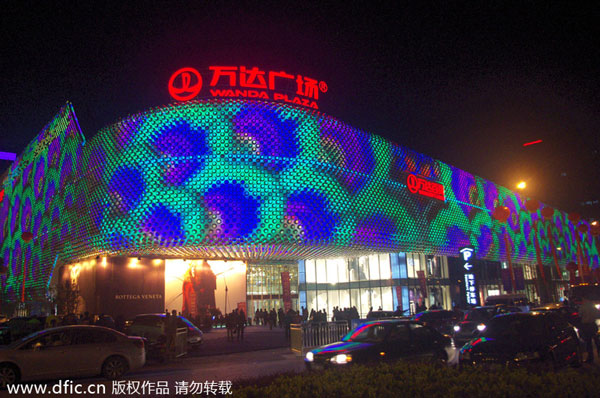 Photo taken on Sept 28, 2013 shows the night view of the Wanda Plaza in Wuhan, Hubei province. [Photo/IC]
Chinese property and investment firm Dalian Wanda Group is in exclusive talks to acquire World Triathlon Corp, the United States-based owner of the popular Ironman Triathlon franchise, for more than $850 million, according to a person familiar with the matter.
The potential deal underscores China's increasing appetite for US media assets. Live events and sports brands are some of the most attractive and fast-growing areas of the media industry.
Dalian Wanda outbid other potential buyers for Ironman and is now in negotiation to finalize a deal with its owner, private equity firm Providence Equity Partners LLC, the person said.
There is no certainty that Dalian Wanda will manage to finalize a deal, however.
The source asked not to be identified because the negotiations are confidential. A spokesman for Providence declined to comment, while representatives for Dalian Wanda and Ironman did not immediately respond to a request for comment.
Ironman is a long-distance triathlon featuring a 3.86-km kilometer swim, a 180-km bike ride and a 42.2-km run, all of which has to be completed in under 17 hours. Ironman hosts 180 events in more than 20 countries, including shorter races.
The first Ironman race was held in Hawaii in 1978 with 15 entrants. The idea for the race came from naval officer John Collins and his wife, Judy, who issued a challenge to see whether swimmers, bikers or runners were the toughest competitors.
The World Championship, where 2,000 athletes compete, is still held in Hawaii and is televised on the NBC Sports Network.
John Gills, a physician and Ironman participant, bought the rights to Ironman in 1989 and sold World Triathlon Corp to Providence in 2008 for an undisclosed sum.
The company generates revenue from selling licensing for merchandise and is also paid through entry fees, sponsorships and global TV rights.
World Triathlon Corp has annual earnings before interest, tax, depreciation and amortization of more than $50 million, sources previously told Reuters.
Dalian Wanda, known for its real estate holdings, has been expanding its media investments outside China in recent years.
It bought sports marketing firm Infront Sports & Media, Media AG, which is based in Switzerland, for 1.05 billion euros ($1.14 billion) in February.
Dalian Wanda's last major US media investment was its $2.6 billion takeover of AMC Entertainment Holdings Inc movie theaters in 2012.