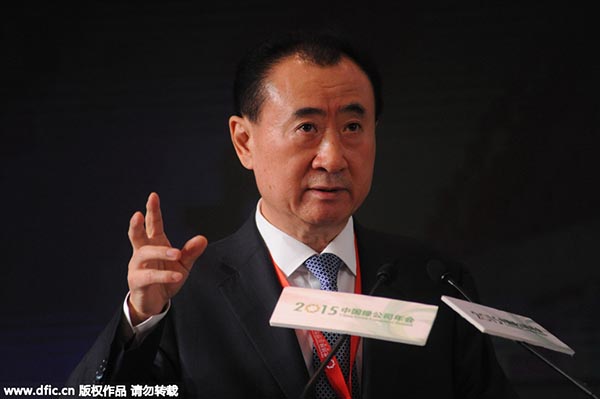 Wang Jianlin, chairman of Wanda Group, delivers a speech during the 2015 China Green Companies Summit in Shenyang city, Northeast China's Liaoning province, April 21, 2015. [Photo / IC]
Dalian Wanda Group Co, Chinese real estate and entertainment conglomerate, is planning to shave off more than 40 department stores and 80 karaoke outlets nationwide, a move aimed at cutting its reliance on property sector and diversifying its business.
These businesses are not big part of Wanda's overall profit machine, but they could hinder the company's efforts at transformation, if not derail it completely, cited a source close to Dalian Wanda on Monday.
Wanda's Chairman Wang Jianlin said in July in a written statement released on its official website that the company wants 65 percent of its net profit to come from services by 2018, two years ahead of its original schedule. Its property sector will only account for less than 35 percent of its profit by then.
The company would also set up a financial-services arm to buy banking, securities and insurance companies while expanding further into sports and electronic sectors, which together with the commercial properties would become the giant's four major areas.
Wanda raked in 108.5 billion yuan ($17.50 billion) in the first half of this year, an increase of 103 percent from a year earlier. The company aims to generate 167.1 billion yuan to fulfill its full-year target, according to the statement.
The Wall Street Journal earlier reported that the company is also planning six acquisitions to boost the transformation in the second half of this year, but said no additional details had been revealed.