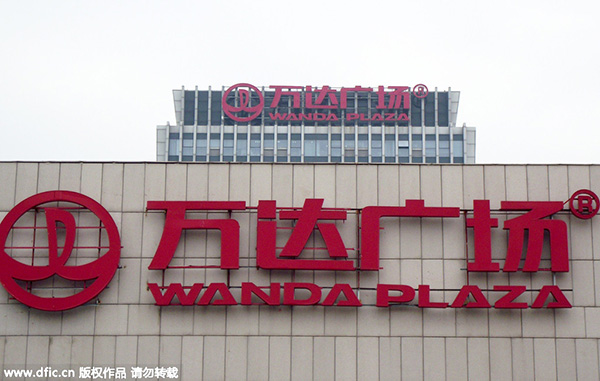 View of a Wanda Plaza of Dalian Wanda Group in Nanjing city, East China's Jiangsu province, Dec 23, 2014. [Photo/IC]
The Hong Kong-listing property developer Dalian Wanda Commercial Properties Co, hopes to raise up to 12 billion yuan ($1.9 billion) in the Chinese A-share market next year.
Wanda Commercial will seek approval from shareholders, the China Securities Regulatory Commission and other authorities for the proposed issue of up to 300 million yuan-denominated A shares, which will then be listed in either Shanghai or Shenzhen, it said in a filing to the Hong Kong bourse on Friday.
Wanda's fund-raising plan comes as China's Shanghai Composite Index tumbled almost 28 percent from its June 12 peak, evaporating at least $2.8 trillion in market value.
Wanda will gain more from the China's A-share market by the listing, said Oscar Choi, an analyst at Hong Kong-based Citigroup Inc.
Based on the statement, the company has 12 months from the date when the proposal is approved by shareholders to complete the offering.
The proceeds will be used for property project investments in Nanjing, Chengdu and three other Chinese cities, Wanda Commercial said. The China Securities Regulatory Commission has not yet approved the offering, according to the statement.
Wanda Commercial's H shares began trading in Hong Kong in December. Wanda Cinema Line Co is the group's only A-share listing trading in Shenzhen.
The company is controlled by Chinese billionaire Wang Jianlin. According to the Bloomberg Billionaires Index, Wang is also the richest man in Asia.
Related:China's top soccer club seeks listing on start-up board
A top soccer club in China is a spot on the country's start-up board amid current stock market frenzy, filings made public on Wednesday showed.
Guangzhou Evergrande Taobao Football Club, 2013 AFC Champions League winner and four-time Chinese Super League champion, will seek listing on the National Equities Exchange and Quotations (NEEQ), which was launched in late 2012 and known as the "new third board" .
Despite the club's stellar record, filings showed Guangzhou Evergrande Taobao has been losing money. It registered losses of 576 million yuan ($ 92 million) and 482 million yuan in 2013 and 2014.
NEEQ uses a trading mechanism comparable to the OTC Bulletin Board or pink sheets trading system in the US, an easier option for some companies which may instead spend more than a year to get the regulators' nod for listings on the main stock exchanges.
Guangzhou Evergrande Taobao is backed by Evergrande, a leading real estate developer and Alibaba, an e-commerce giant, which respectively own60 percent and 40 percent stakes in the club.