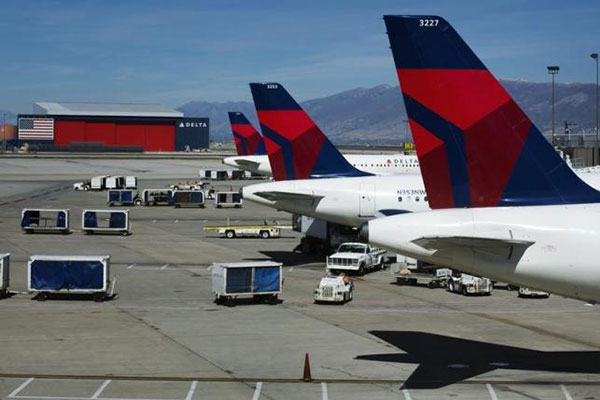 Delta planes line up at their gates while on the tarmac of Salt Lake City International Airport in Utah September 28, 2013. Picture taken September 28, 2013. [Photo/Agencies]
Delta Air Lines Inc has agreed to buy 3.55 percent of China Eastern Airlines Corp Ltd, a move that would make it the first US carrier to own part of a Chinese airline.
The deal may prompt Delta's rivals to beef up partnerships with Chinese carriers in an effort to secure their place in a country that Delta expects to become the biggest market for travel from the United States.
Delta's purchase challenges rival United Continental Holdings Inc, the leading US airline for service to China. United Chief Executive Jeff Smisek said Thursday during an investor call that the airline would be "keenly interested" in exploring a Chinese joint venture once the United States and China negotiate an Open Skies agreement that would ease air route restrictions.
Atlanta-based Delta said it will invest $450 million in China Eastern's Hong Kong-traded stock, which has nearly tripled over the past 12 months even as broader Chinese stock indexes have plunged.
Delta said it will get an "observer" seat on China Eastern's board. The move may pave the way for Delta and China Eastern to seek approval to coordinate pricing and flight capacity.
However, larger tie-ups with antitrust immunity cannot happen until an Open Skies agreement is in place, which could take years. Currently, governments specify which airlines can fly which routes, and how often.
Chinese carriers have been "launching far too much capacity across the Pacific," industry consultant Robert Mann said. "Everybody is looking for a stronger form of joint-venture partnership for the day when China and the US have Open Skies."
For now, Delta and China Eastern say they will invest in services so travelers have a seamless experience on the airlines, which share flight codes on 80 routes including subsidiary Shanghai Airlines. The partnership will grow Delta's foothold in China Eastern's Shanghai hub, a key market for business travel.
The transaction is subject to approval by each company's board.
Delta is investing in foreign carriers, taking small stakes in one airline in Mexico and one in Brazil. It also owns 49 percent of Virgin Atlantic Airways Ltd (VA.O) and has used its position to shift the UK carrier's routes to Delta's advantage.